Suda 51 was going to reveal a new No More Heroes 3 trailer today… instead we watched Blur's Coffee and TV video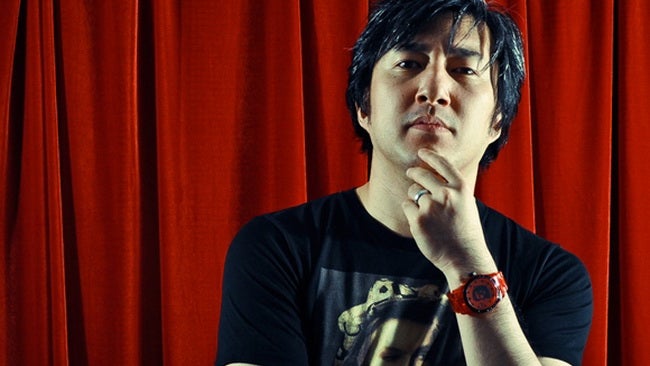 Grasshopper Manufacturer boss Goichi Suda was due to reveal a brand new trailer for No More Heroes 3 today, but instead we sat through a presentation of his favourite music videos.

Speaking at the opening keynote of Reboot Develop Red today in Canada, Suda was originally going to discuss reviving Travis Touchdown for No More Heroes 3.
Part of that presentation would have been a new trailer for No More Heroes 3. Instead, after talking to attendees of the conference the night before, he decided at the last minute to spend 45 minutes on stage talking about his favourite music and how central it can be to the development of his games.
That list of music included Blur's Coffee and TV, Suda's favourite Blur song and music video. You know the video, it's the one with the milk carton looking for Blur's Graham Coxon.
Suda admitted that at the end of the video he often cries when the milk carton goes to heaven. While many of the music videos were shown for a minute or two, Suda made us all sit through the entire video and he even waved to the milk carton at the end. Bless.
Suda's other musical highlights included The Smith's The Queen is Dead and The Smashing Pumpkins' 1979. The Smashing Pumpkins' lead singer Billy Corgan once arranged to meet with Suda, but stood him up at the last minute.
Suda listen to Quruli on repeat during his development of The Silver Case, in particular the song Worlds End Supernova, describing it as a song he can feel fall through his body when he writes.
REM's Shiny Happy People was the soundtrack to Sun, Flower, Rain, while New Order's Singularity was the background theme to the making of his biggest hit, Killer7.
New Order's previous incarnation, Joy Division, were at the heart of his development process for the original No More Heroes, said Suda. As it's a game about hitmen, Suda said Joy Division helped him focus on death. Cool!
His number one Japanese band, Sakanaction, were next on the list, followed by Dead or Alive's You Spin Me Round, which featured on Lollipop Chainsaw.
Suda went off on a tangent, saying he used to visit clubs in the big city when he was younger, but as he was from the countryside he didn't have any luck trying to hook up with women. He then described the women in the city as looking like monsters, be he eventually caught one monster who became his wife. Honestly, this is what he said. I'm not making it up.
Suda ended the session by revealing that Nobuaki Kanko is working on the soundtrack for No More Heroes 3, and that the musician is so attractive that when he comes to the studio none of the female members of staff do any work because they're all too busy staring at him.
This is what happens at boutique games development conferences, kids. Here's a playlist of Suda51's favourite songs so you can feel like you were here with us.
https://open.spotify.com/playlist/0bTbrQjgNv1NehS1D3t4pq