You can find the Spider-Man: Miles Morales trailer location in Marvel's Spider-Man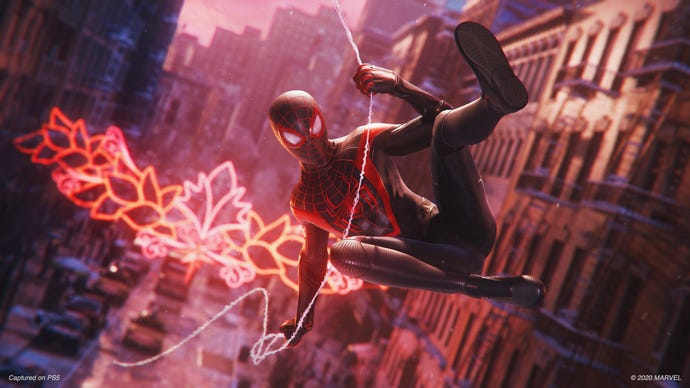 An avid web-slinger recently discovered the location shown in Spider Man: Miles Morales in 2018's Marvel's Spider-Man.

Revealed as part of the PS5 event from earlier this week, Spider-Man: Miles Morales is set to be the next installment in Insomniac's Spider-Man series. However, as the name suggests, the eponymous hero isn't Peter Parker. It's Miles. Obviously.
You might remember Miles from the original Marvel's Spider-Man, or are perhaps familiar with him from the comics or Into The Spider-Verse. Regardless, Miles discovers he has spidey abilities towards the end of Marvel's Spider-Man, and Spider-Man: Miles Morales is all about him using said abilities to do whatever a spider can.
Anyway, it turns out that somebody went web-roaming around Marvel's Spider-Man and eventually discovered where the Miles Morales trailer takes place, before posting their findings to ResetEra.
"Everyone who was wondering if this still took place in Manhattan, if they were going to change anything about the city and if so how much they were changing, this might give you an indication of what to expect," reads the post.
"The location we see in the gameplay footage of the trailer is in Harlem (the very north of the game map) in E123RD Street. I had to go by the surrounding taller highrises to find the location, because the buildings lining the street have changed completely. That brick building with the bay windows to the right is for example nowhere to be found in the street of the current game."
This spidey aficionado also posted comparison photos of locations featured in both games. Check them out below.
And two more:
And finally, it appears the street grid is pretty similar, too.
"Apart from the partial changes to the city the lighting is quite different even though both scenes are at about the same time in the evening," the post continues. "The sun has wandered a bit, which could be an indication that there will be a dynamic day and night cycle."
"Evenings now have a reddish hue instead of an orange one. The skybox is different. Traffic density and draw distance seems to be about the same, but there are much more pedestrians on the street. Last but not least, it is obviously winter now."
Also, and this is probably the most important part of the entire reveal: the puddles are ray-traced.
Despite rumors to the contrary, Spider-Man: Miles Morales is a standalone title for PS5.