Session adds Skate 3 control system, Xbox One release in "spring"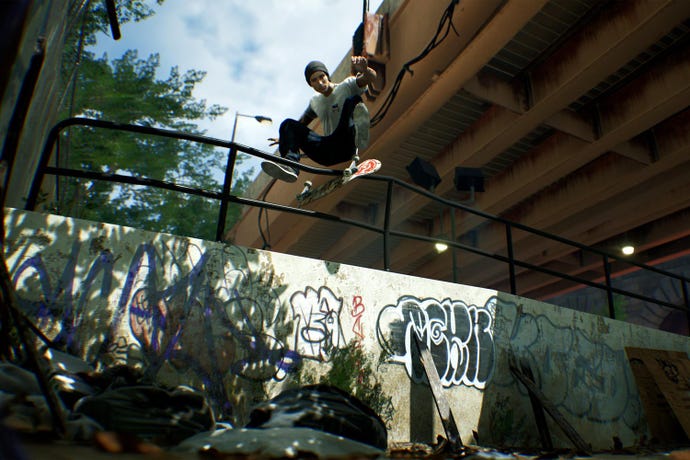 Update: Session has added Skate-like controls with the latest Update 0.0.0.3 and given an tentative release period for the Xbox One version of the game.

Those hoping for solid Xbox news will be disappointed. While Crea-ture Studios has a partner for the Xbox port - Illogika will be handling duties - it's still only pegged as a "spring" release.
The better news is that Session now supports a new control system similar to EA's venerable Skate franchise. It's still in its early stages and Crea-ture warns that some tricks such as grinds and willys won't be working yet.
Elsewhere there's more music added, you can choose between the real Brooklyn Banks layout and a game version, and there's remote play integration. We'll bring you full impressions later this week. You can check out all the changes over on Steam.
Original story: Early Access skateboarding sim Session is adding a control system similar to that found in EA's classic franchise Skate.
Session's current controls are notoriously difficult to master, asking the player to rethink how they use control sticks. It boils down to the left and right stick representing your character's left and right foot, while the triggers are used to distribute weight.
According to developer Crea-ture Studios, this is a simulation of how people skate in real-life. And just like real-life, the first time you step on a skateboard you will eat s**t.
But in the next update, due February 19, Session will gain controls that its developer says players find much more "familiar". In EA's Skate series, the left stick is used to steer while the right stick is used for tricks.
Welcome San Van citizens! We know you do things a little different in your city so as gracious hosts for out-of-towners our next update will have a feature that'll make your next visit to the Session universe a little more comfortable with some familiar controls ? available 2/19 pic.twitter.com/RyedhaeLsP

— creā-ture Studios (@actionofcreate) February 14, 2020
"It's a difficult sport but it's really rewarding when you put the hard work into it," Crea-ture Studios' Marc-Andre Houde told VG247 at the end of 2017. "I think the difficulty makes the identity of the project. Players struggle with the triggers and they wonder why we're using two thumbs sticks and that we've overcomplicated it. Well, yeah, maybe.
"But we also see it another way. We're thinking differently with this concept. We're not asking you to turn with the triggers, we're asking you to move your weight and put pressure on the trucks, so it makes sense. And we use two sticks because most tricks on a skateboard are not done with one foot. So we're replicating this motion of two feet with thumbsticks. We're really trying to implement weight transfer."
Now Session has been in Early Access for some time, it appears Crea-ture's thoughts on controls have mellowed. While the addition of a new controls system may be contentious for some fans, Crea-ture will still offer the original control system alongside the new version.
Our Session controls are not going anywhere, these will be an extra set of controls you can choose if you're not used to living in the Session universe yet ?

— creā-ture Studios (@actionofcreate) February 14, 2020
And after the delay of the Xbox One version of Session, it appears we're also about to get info on the console release.
You can get a glimpse of the latest update in the clip below.
?FEBRUARY 19?

NEW features
NEW level
and some XBOX ONE news you've waited for pic.twitter.com/mTShHtodJH

— creā-ture Studios (@actionofcreate) February 13, 2020