Rumor - Splinter Cell and PoP Trilogies in HD hitting PS3 by year's end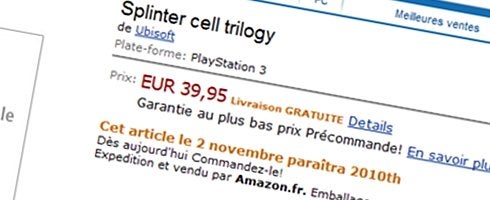 Amazon France has listings on its site for a Splinter Cell Trilogy and a Prince of Persia Trilogy, and it has both slated to hit PS3 in November in full HD glory.
Neither is a confirmed retail listing from Ubisoft yet, so despite showing up, keep both filed in rumorville for the time being.
Splinter Cell was spotted by TheSixthAxis,while the Prince of Persia listing was found by one of its commenters.
Another commenter stated the Splinter Cell Trilogy would indeed be released per a "pre-order book" he has access to.
Groovy if it's all true.
We'll mail Ubisoft.
Thanks, AHA-Lambda.