Red Faction: Guerrilla demo out for all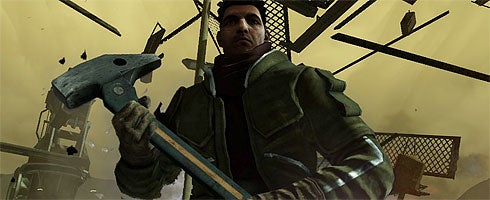 THQ's put out the Red Faction: Guerrilla demo openly on Live and PSN.
No codes necessary. Just go and get it.
The game itself releases for 360, PS3 and PC on June 2.
Press release after the break.
Red Faction®: GuerrillaTM Demo Now Available on Xbox LIVE® and PlayStation®Network
THQ and Volition, Inc. Set the Stage for Red Faction: Guerrilla's Highly-Anticipated June 2nd Release with Destructive Single-Player Demo
AGOURA HILLS, Calif.- Apr. 23, 2009 - THQ Inc. (NASDAQ: THQI) and Volition, Inc. today announced the single-player demo for Red Faction®: Guerrilla™ is now available for free download on Xbox LIVE® Marketplace for the Xbox 360® video game and entertainment system from Microsoft and PlayStation®Network for the PLAYSTATION®3 computer entertainment system. Developed by THQ internal studio Volition, Inc., Red Faction: Guerrilla is a 3rd person, open-world shooter featuring real physics-based destruction, a story-driven single-player campaign and robust multiplayer options. The demo features an action-packed single-player mission introducing the groundbreaking GeoMod™ 2.0 Destruction Engine, and comes just weeks before the June 2nd launch of Red Faction: Guerrilla.
"The press and consumer buzz for Red Faction: Guerrilla continues to build, as gamers prepare for a new standard in open-world, destruction-based game-play," said Kevin Kraff, vice president of worldwide marketing, THQ. "The single-player demo will give consumers an exciting taste of what the full game will offer on June 2nd."
About the Red Faction: Guerrilla Demo
The Red Faction: Guerrilla single-player demo puts players in the role of freedom fighter Alec Mason as he battles the oppressive Earth Defense Force for control of Mars. Offering an intense single-player mission, the demo utilizes the GeoMod 2.0 Destruction Engine which uses real-world physics to simulate building formation and destruction in the game. The demo is now available for free download on Xbox LIVE Marketplace and PlayStation Network.