Red Dead Redemption 2 poker is the best poker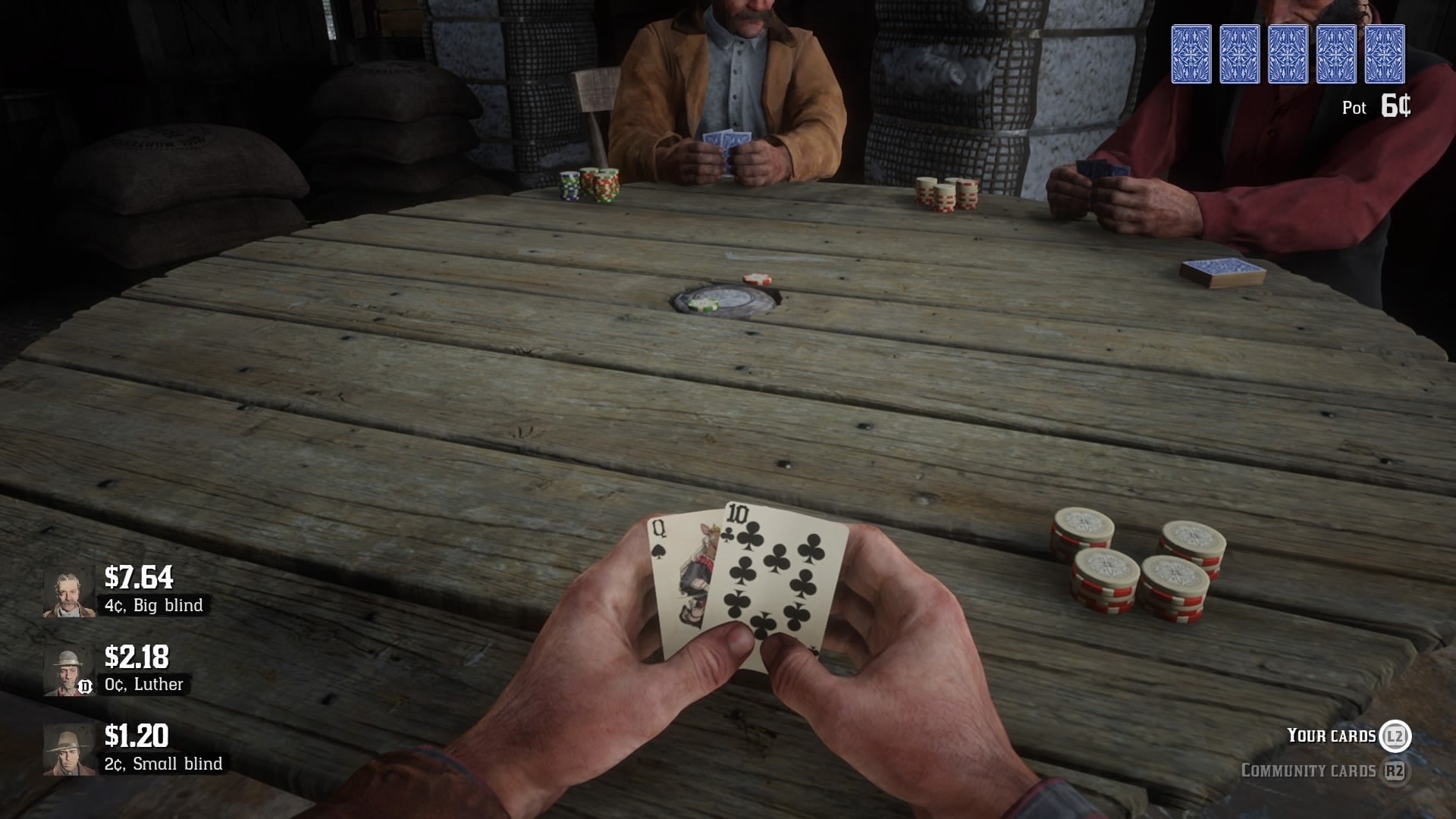 Sorry if this is a bit hashtag humblebrag, but I went to Las Vegas for the first time ever recently, and it was pretty weird. But of all the things I learnt over that weekend, one lesson was mercifully swift: I don't like gambling.
I'm not into slot machines - they remind me too much of of that Final Fantasy All the Bravest mobile game that Jim Sterling so perfectly described as something you put your money into and receive absolutely nothing in return - and I'm just too cheap for the buy-in of a lot of table games, not to mention too awkward to sit down in the first place.
Despite that though, there's something about poker I really dig. It might be because of Daniel Craig in Casino Royale, or all the World Series of Poker I watched past my bedtime on Sky Sports 3 as a kid, but the bravado, intuition, and stony-faced subterfuge of it all just make for a great card game.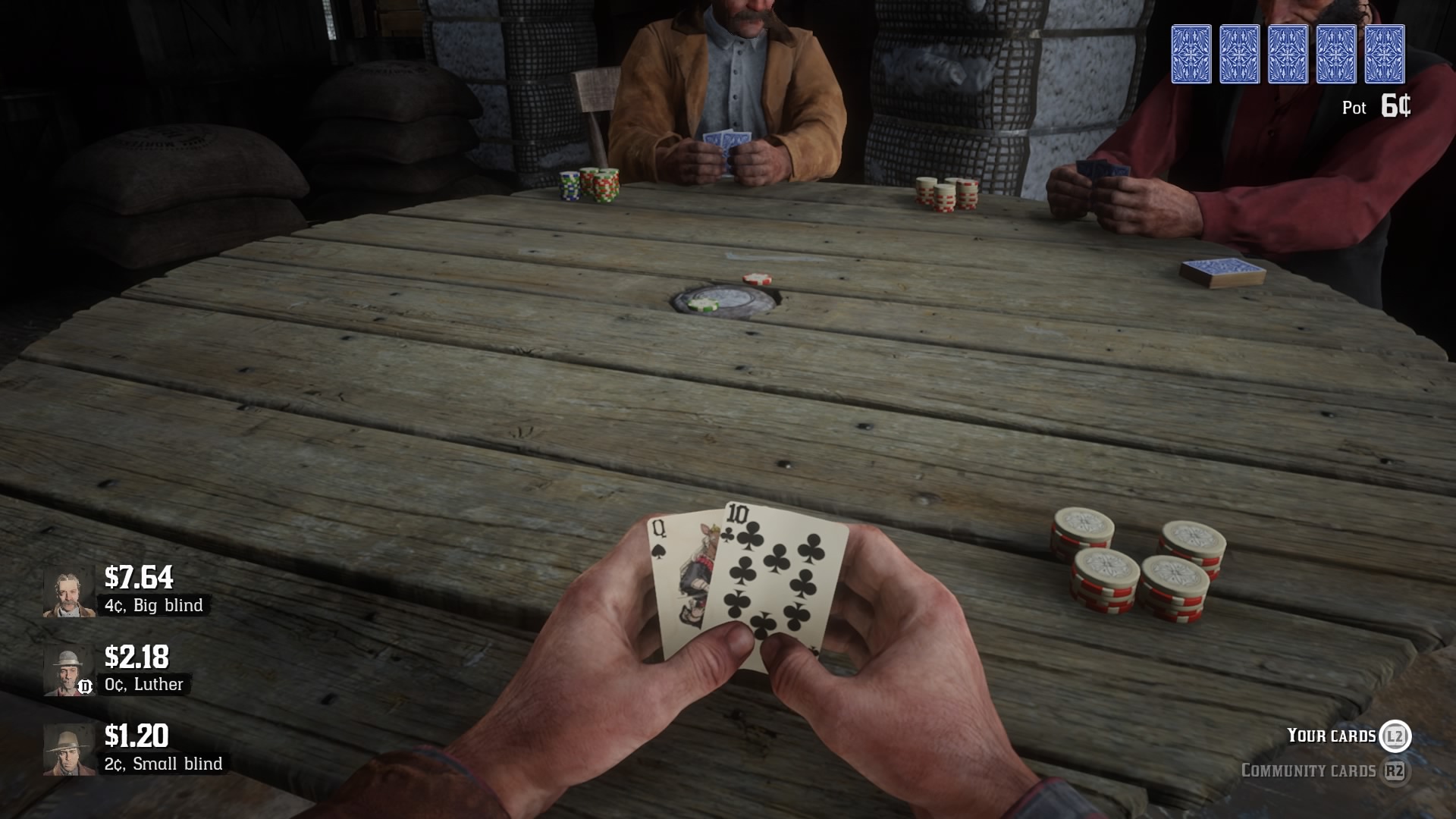 Because of that, fun twists on poker that appear on Steam or console are always interesting - not the ones that mug you for real money mind, most of those are seriously bad news - but there are a few cool games out there that have a solid poker base, as well as a bit of quirk and intrigue on top. The best ones aren't always fully dedicated to poker though, and the poker in Red Dead Redemption 2 might be the most fun I've played since Poker Night at the Inventory.
First off, the vibe is great. A lot of online casinos go for the cowboy theme, but all of the charm and detail that Rockstar has packed into the period costume and setting of Red Dead Redemption 2 shines through when it's hunched around a table playing cards with whiskey and a cigar. Dealing hands, pushing chips in to bet, and even turning over the flop, turn, and river are all richly animated, and you can skip through if things start to get a bit slow. The different card designs and opponents do enough to keep each game location around the open world distinct, and there's enough variety in the idle chatter to keep it unobtrusive.
When you play in camp your fellow outlaws swap stories and reveal a few tidbits about their shared lives and exploits, so if you're one for role-playing - or just want to learn a bit more about the van der Linde gang - that's another reason to sit down for a few hands.
To top it off, the buy-ins are low, and you get a ton of chips for your money. I've always found in games with friends that you never get enough betting chips in those little sets you buy off eBay, so even if you're buying in at £5 you can only lose like twice before you're sat out for the rest of the night.
In the early game you buy in at $2.00 and bigger pots usually run up to about 40 cents - so you can play for decent amount of time just for the fun of the game without sweating too much that you're going to lose the farm. There are slightly higher stakes games dotted around in Saint Denis and Tumbleweed, but we're not even talking a hundred dollars at stake. Not great if you're in it for the thrills, but perfect to relax, enjoy, and play as much as you like.
So if you're getting a bit tired of the lottery of grabbing perfect pelts or trudging through the undergrowth after all of the legendary animals and legendary fish, pull up a chair next time you're riding through.