Red Alert 3 modders recreate 2003's Command & Conquer: Generals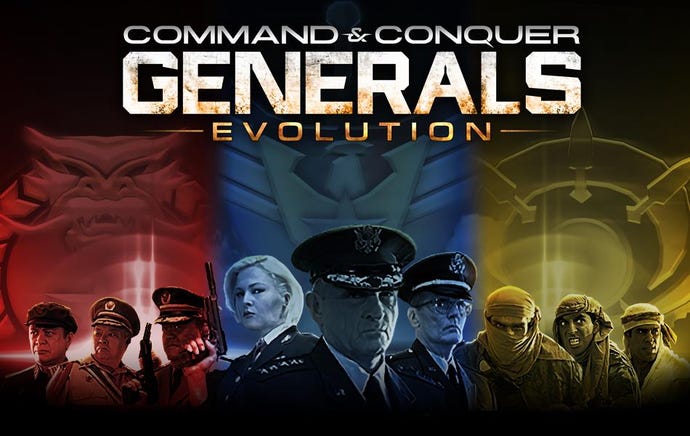 The project is only out in beta form, with its developers admitting it still has work to do.
Modders have built an updated version of 2003's Command & Conquer: Generals in Red Alert 3.
As spotted by Eurogamer, an early beta version of this mod – dubbed Command & Conquer: Generals Evolution – can be downloaded over at ModDB.
The project's leader Gunship Mark II says that it has taken 12 years of work for developers to complete this mod, which has apparently involved "countless revisions" to reach fruition. The developer also called out fellow Command & Conquer modder Darth Jane for her support in fixing an issue with Red Alert 3's engine.
"It's been a very wild ride, after countless revisions, engine migrations, engine oddities and quirks me and sgor00 can finally release something we're proud of," Gunship Mark II wrote.
"We've spent over a year working every day to finally polish things up, make mod more feature-rich and cram as much of that Generals feel as possible."
The mod aims to recreate the feel and atmosphere of Command & Conquer: Generals on 2008's Red Alert 3's more modern engine tech and has brought "almost every" unit from the original game along for the ride, in addition to adding in some new ones to "spice up gameplay a bit."
Gunship Mark II admits that users shouldn't expect this to be a polished experience and says that the team is going to be resting for a bit now that this beta is out in the wild. When they're back from a break, the developers are going to be adding in new content, including missing units, a single-player campaign, as well as co-op missions and new Skirmish maps. The team is also going to be polishing a lot of what is already in the release.
"Working on this project was nothing but copious amount of stress, I had to sacrifice pretty much every ounce of my free time, even decline freelance job offers just to finish this thing (I think it's a "me" problem at this point)," Gunship Mark II said.
"Sgor00 also had to work daily on huge amount of art assets burning his retinas out looking at textures. I think we deserve a bit of rest, which means we won't be able to assist you with any issues you're going to have with this project."
Command & Conquer: Generals debuted back in 2003. A sequel – initially known as Command & Conquer: Generals 2 – was in the works, before it was rebranded as just Command & Conquer in 2012. This was going to be the first free-to-play entry in the franchise, but it was cancelled in 2013 following negative feedback from internal testing.
More recently, publisher EA announced mobile Command & Conquer game Rivals at E3 2018, before rolling out remastered versions of 1995's Command & Conquer and 1996's Red Alert last year. In our review, we described this release as "one of the most definitive remaster packages to date."