Rainbow Six Siege Year 5 Pass now available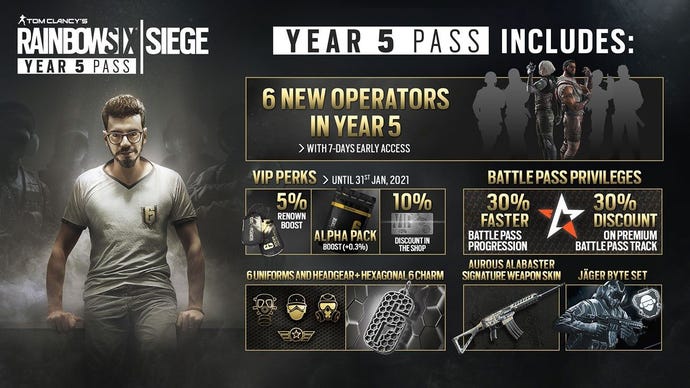 Rainbow Six Siege players can now purchase the Year 5 pass.
Year 5, as previously revealed, brings six new operators to the game, starting with the latest to be added to Rainbow Six Siege, Oryx and Iana.
The Year 5 Pass gives you seven days early access to new operators, will run you $24.99 and includes the following additional VIP benefits:
Six Headgear and Uniforms and One Hexagon charm
One R6 Aurous Alabaster Signature Weapon Skin
One Jager Byte Set
5% Renown Boost
10% In-Game Shop Discount
Alpha Pack Boost (+0.3%)
Additionally, the Year 5 Pass will include 30% faster battle pass progression and 30% discount on the premium battle past track.
It's worth noting the VIP perks will end on January 31, 2021 and the 10% discount only applies to purchases made with Renown or R6 Credits.