PS+ Games May 2022: Is this month's PlayStation Plus line-up any good?
It's a pretty good month for PlayStation Plus users that want action-RPGs and sports games in their libraries – but is it good for anyone else?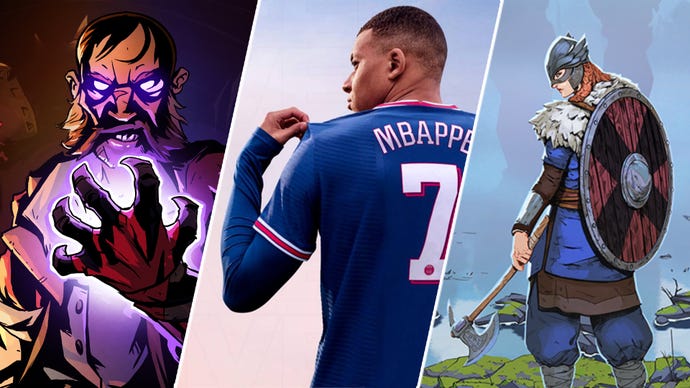 Sony has officially announced its May 2022 PlayStation Plus line-up – and it's a good one. As ever, the actual line-up leaked a little while ago, but now that we've had official confirmation from Sony about what to expect, we've been mulling it over and we've come to a conclusion – this really is a pretty good month for the subscription service.
To recap, the games you'll be able to download from May 3 are: FIFA 22 (PS4, PS5), Tribes of Midgard (PS4, PS5), and Curse of the Dead Gods (PS4). You have until May 2 to download April's PS Plus games – check those out at the link.
Perhaps that's because Sony is trying to sew as much positive sentiment as possible ahead of the relaunch of PlayStation Plus and it's more expensive (and somewhat controversial) Premium option. What better way to prove to players and payers alike that the service is still worth your hard-earned money than letting the traditional tier of the service go out with a proverbial bang?
So, let's see how good these games are.
FIFA 22: Unless you've been living under a rock, you'll know about this game – FIFA 22 is a game with plenty of solid improvements compared to past iterations of the franchise, but many argue that the game is let down deeply by an aggressive and insidious monetisation programme.
The game currently endures
a 2.6 user score
on Metacritic (
78 on the critic side
), with the vast amount of criticism being levied at the game's unscrupulous monetization tactics. The pace is slower than previous games, and there's more of a focus on 1v1 encounters with ball skills and things like that.
Let's be honest, though; this game is on PS Plus in May. It's a big thing for a FIFA title – especially a current one. It's obvious that this is EA trying to get the title in more players' hands, so it can harvest more money from them in the form of the FIFA coins premium currency. But if you want to play it, you want to play it – and there's probably very little that's going to change your mind. It's not like Konami's eFootball (or even the mysterious UFL) has any chance at holding FIFA off the football throne in the immediate future.
Tribes of Midgard: This is a title that blends survival and ARPG genres into an experience set within Norse mythology. Playable in solo or co-op, as an Einherjar returned to life by Odin, you and your tribe of up to 10 players are tasked with defending the Seed of Yggdrasil from evil forces set on bringing about Ragnarok.
This is a Diablo-inspired RPG in which you will need to gather resources, materials, and treasures in order to forge new weapons and armor. By all accounts, there's a great cadence to progression, and you're able to get hooked on the many interlocking systems as the game opens up. The end-game? Take on giants and beasts of Norse legend and reign victorious.
The PS5 game has a respectable 71 on Metacritic, with most critics complimenting the co-op action, launch offering, and graphical style of the title. Sure, it can be repetitive – but that's largely the appeal of these types of games in some ways, right? Come for the difficulty curve, stay for the end-game.
Curse of the Dead Gods: If you're a fan of skill-based, single-player roguelikes, look no further. In this PS4 game – which sits at 79 on Metacritic – you will explore a cursed temple which is a seemingly endless labyrinth full of bottomless pits, traps, and monsters. Here, even death is not an escape, because upon every death, you will rise to fight again. Par for the course in the genre, then.
Though a lot of reviews say the game falls down when compared to genre stablemates like Binding of Isaac, Hades, or even Enter The Gungeon – it's still a playful, satisfying romp in its own right. Visually striking and compelling (once you really get your teeth into it), this tricky action-packed game has certainly made its way onto my radar thanks to its PS Plus inclusion. Let's see if I can ever stop playing Slay the Spire, though.
So there you have it, May's PS Plus line-up. What do you think? Anything here you're definitely going to play (or avoid)? Let us know in the comments below.