No Man's Sky's next update is Desolation and it sounds a bit scary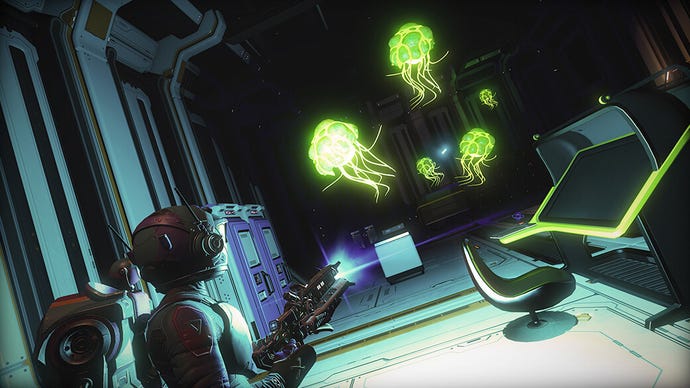 Hello Games has announced a new update coming to No Man's Sky today called Desolation, and it sounds like it has a bit of a horror element.
Desolation is a content update for No Man's Sky, and in it, you will be salvaging and trying to survive in the "haunted wreckage" of derelict procedurally-generated freighters. It will also contain more story content, combat improvements, freighter customization, and some quality of life updates.
Because the freighters are procedurally generated, no two interiors will be the same, and the only way to learn what happened to the crew of the derelict ships is to explore. Be prepared for danger, as the security AI is no longer functioning as it should - and some freighters are infested with a "sinister alien presence."
Each freighter also has a unique story. You can uncover a crewmember's fate by retrieving ship logs and personal effects. You will also eventually gain access to the captain's log.
Alongside the Desolation update, you can expect improved bloom effects, improved lens flare, new lighting effects, and more.
You can also extract items from the abandoned freighters in the update, to upgrade your freighter and it will "reflect the history of ships you've scavenged." Expect improvements to your capital ship's warp drive, and new fleet upgrades such as boosts that will improve the abilities of your frigates.
There's plenty more to find out about the new content and the patch notes for today's update through the official website.
If you have yet to pick the game up, it is on sale through Steam for 50% off and it is also 50% off for Xbox One. PS4 users can also pick it up for the same discount.