There's a new Netflix Castlevania series coming, featuring Richter Belmont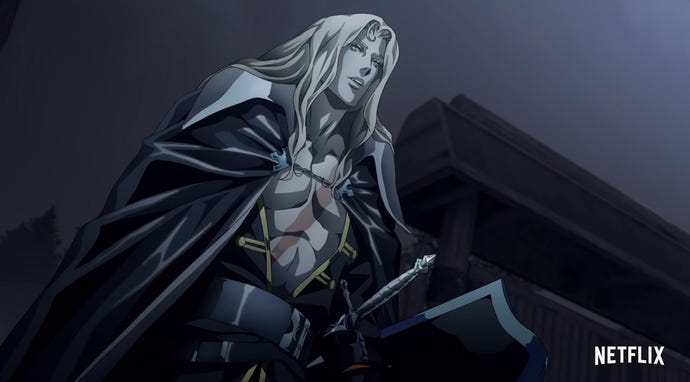 Netflix has announced a new series of its Castlevania anime, and this time it'll follow the adventures of fan-favorite Castlevania protagonist, Richter Belmont.
After the rampant success of the Castlevania Netflix series, it makes sense that the streaming company wants to carry the momentum forward.
To that end, Netflix has announced a new Castlevania series set in the era of the French Revolution around 1792 (moving things onwards a mite from the Middle Ages setting of the past seasons).
The new series also gets a new protagonist in Richter Belmont – a descendent of Trevor Belmont and Sypha – somewhat matching the lore from the games, where he is several generations removed from Trevor.
The Castlevania Universe is getting even bigger.

An all new series starring Richter Belmont (the son of Sypha and Trevor) and Maria Renard, set in France during the French Revolution, is currently in the works. #GeekedWeek pic.twitter.com/tsdeDpvNGQ

— Netflix Geeked (@NetflixGeeked) June 11, 2021
Carrying on the dynamic of having a dual lead, we'll see Richter's sister-in-law – Maria Renard – accompany the protagonist and put her knowledge of magic to good use in doing so.
You may recognize Richter from Castlevania: Rondo of Blood, Castlevania: Symphony of the Night or maybe even uper Smash Bros. Ultimate – if that's more your thing. He's largely agreed to be the most ferocious and imposing Belmont, so we hope that's reflected in the anime.
This isn't the first we've heard about a spin-off, so it's nice to see the rumors were correct. The Castlevania Netflix show first launched in 2017 with four episodes, and instantly found a massive audience on the platform, with Season 2 following in 2018 and Season three airing back in March 2020. The show's popularity never wavered and received critical acclaim around the world.
Netflix's Castlevania series was created by author and comic book writer Warren Ellis, who served as writer and executive producer. There's no information on who's attached to this new project at the moment, though.
This was announced as part of Netflix's Geeked Week, where we also heard about WitcherCon and saw more information about The Witcher Season 2.