NBA Jam will have big head mode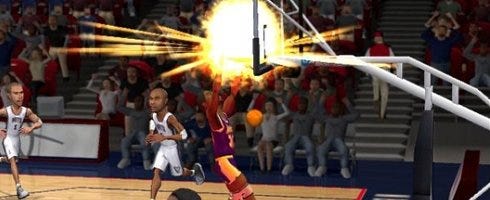 NBA Jam's creative director, Trey Smith, has revealed to MTV that EA worked closely with series creator Mark Turmell not only with the digitized faces of the players, but the big heads as well.
You can pick the missus up off the floor, now that she knows the title of this post does not mean what it seems to her.
According to Smith, the development team was keen on gamers still being able to tell the difference between each player from a distance, like with the original.
"You could tell who each [player] was," said Smith, "and that was something really key to us.
[Turmell] spent time with the [dev] team, and really kind of talked to us about it.
"Wait until you see big head mode, because that's where we really start playing around with it, [while being] as true to the original NBA Jam as possible, but using all the bells and whistles we have in the last 17 years since it came out."
Sounds fun.
Magic Johnson and Larry Bird will be in it, and it is slated for Wii sometime this year.
It may possibly hit PS3 and Xbox 360 as well.
Via Joystiq.