Monster Hunter Stories 2 Little Ones Lost quest guide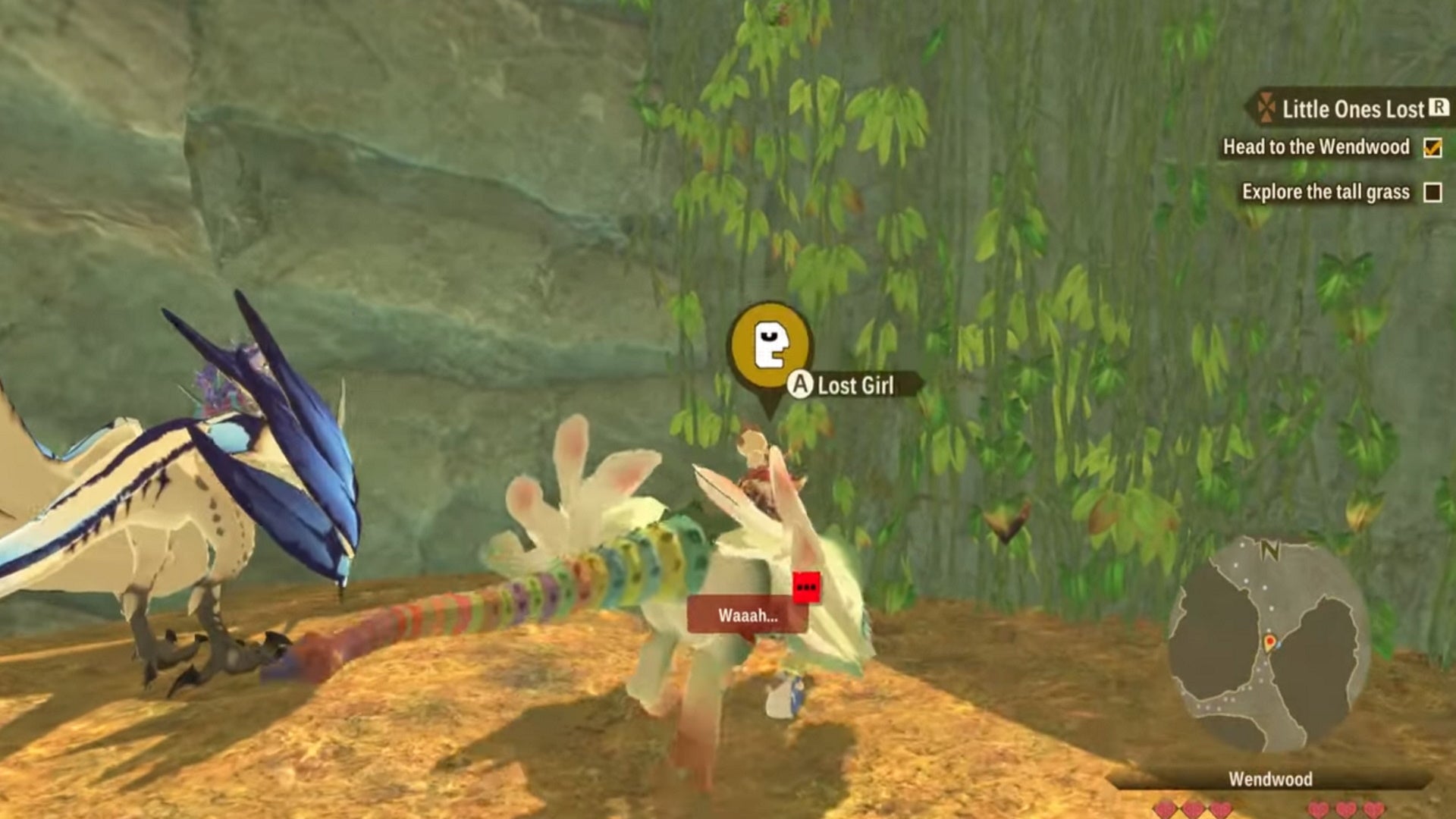 In Monster Hunter Stories 2, the Little Ones Lost quest tasks you with finding three small children in the wilderness of the Windwood.
The area is vast, and you have only vague clues to guide you. Our Little Ones Lost guide points you in the right direction so you can get back to the story.
Monster Hunter Stories 2 Little Ones Lost: The tall grass
After accepting the quest in Alcala, head to the Wendwood. Consider using Nargacuga's Riding Ability to avoid fights if you've got one, since the narrow paths are crowded with monsters.
Concentrating on avoiding them too much can lead to you running straight past the missing children, so try not to focus on the monsters too much.
The clue points you toward some tall grass, which is hardly a scarce commodity in Wendwood.
Head to the Catavan stand, and go southeast toward the ridge. You'll see some dialogue boxes pop up as you approach the child, so you know you're on the right track.
Monster Hunter Stories 2 Little Ones Lost: The huge tree
The second clue takes you to a huge tree, which is also a common site in an ancient forest. The huge tree in question is at the far southern edge of the map. This one's more difficult to miss and is behind the ridge on the map.
Monster Hunter Stories 2 Little Ones Lost: The pond
The final child is northeast of the huge tree, where the map starts to curve a bit.
They're near a pond, though you should prepare for a scripted fight once you find them. Arzuros and smaller Arzuros will attack you, but it's a fairly easy battle.
Arzuros mostly use Power attacks, so be ready with Speed to win head-to-heads.
If you're looking to finish more of Monster Hunter Stories 2's subquests, check out our guides for X Marks the Spot and the Barrel Felyne quest.
Keep an eye out for super rare monster dens while you're traveling too. You might just find your new favorite Monstie or an ultra-powerful dragon inside.