Mafia: Definitive Edition is a remake, featuring fresh dialogue, cutscenes, graphics, and gameplay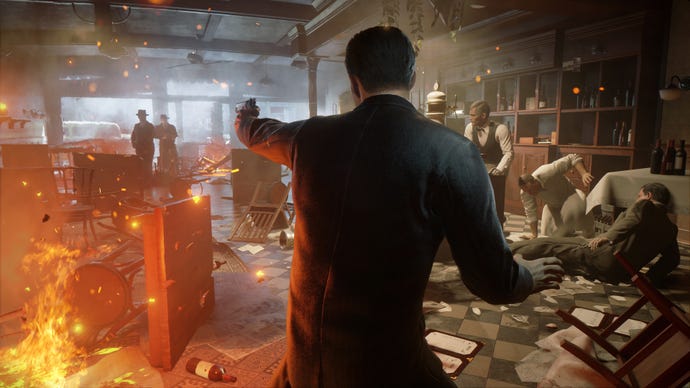 Mafia: Trilogy got teased last week, and we can now confirm what it includes.
As well as a HD remaster of Mafia 2 and a relaunch of Mafia 3, it features a full-on remake of the first Mafia game, as last week's leak suggested.
Mafia: Definitive Edition was completely remade in a new engine. Taking place during the Prohibition-era of organised crime, you'll rise through the ranks of the mob once again, but seeing all-new story content, cutscenes, and gameplay sequences as you go. It looks gorgeous:
Everything has been redone, from the acting to a new orchestral score.
"The original Mafia made such a lasting impact on how video games can tell serious stories, and we know how much the series' fans still revere it," said Haden Blackman, president and CCO at Hangar 13 "Nearly 20 years after the Mafia series started, we now have an amazing opportunity to introduce this beloved game to a new generation of players and give longtime fans a chance to relive Tommy's story with a stellar modern presentation, as well as new story elements and gameplay features."
Owning Mafia: Definitive Edition also unlocks Tommy's suit to use in both Mafia 2 and Mafia 3, tying the Mafia: Trilogy collection together.
Mafia 2: Definitive Edition isn't a full remake, instead opting for the remaster treatment with 4K visuals and all the DLC packaged into the game. Here's a look at that remaster side-by-side with the original:
Mafia 3: Definitive Edition is a re-release, but owning it unlocks Lincoln's army jacket to wear in the other two games if you really want to mess with the timeline.
You can buy the games as a package or individually, and people who already own Mafia 2 and Mafia 3 on Steam will be automatically upgraded to the Definitive Editions. The same goes for Mafia 3 owners on PS4 and Xbox One.
The Definitive Editions of Mafia 2 and Mafia 3 launch today, May 19. Mafia: Definitive Edition is coming on August 28, which is when the physical edition of Mafia: Trilogy will be released. Phew.