Lionhead's second GamesCom teaser is Robespierre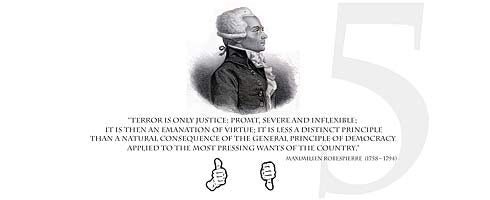 Lionhead just posted up a second teaser on its site, showing a new splash page with a shot of Maximilien Robespierre and the same thumbs up and thumbs down symbols that appeared under Che Guevara yesterday.
The quote: "Terror is only justice: prompt, severe and inflexible; it is then an emanation of virtue; is it a less distinct principle than a natural consequence of the general principle of democracy, applied to the most pressing wants of the country."
Same deal. Hit the up thumb, you go to the "followers" page, the down thumb taking you to "subjects".
There's a number five there as well. There was a number six yesterday. Wednesday morning at GamesCom or bust.