Konami announces the TurboGrafx-16 mini and six of the games it'll feature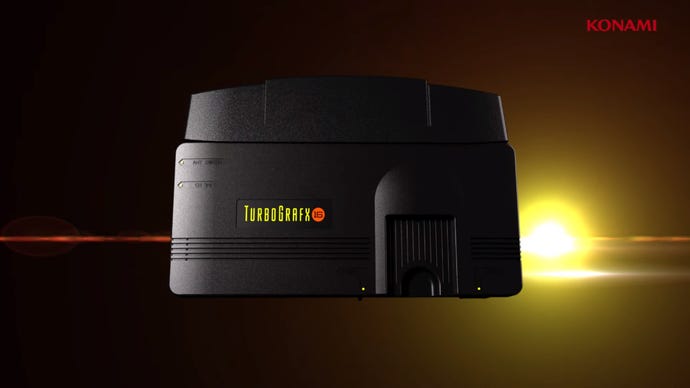 The 'mini retro console' trend continues with the TurboGrafx-16 mini.
The glut of mini consoles - probably best realised, so far, by the great SNES Classic Mini - continues with the TurboGrafx-16, announced today by Konami.
Konami owns the rights to this thing, according to Kotaku, because they absorbed Hudson back in 2012, acquiring their assets, including the console, in the process.
The reveal trailer, shown on a special Konami stream, is below.
Six games have been announced so far, although the trailer promises more:
R-Type
New Adventure Island
Ninja Spirit
Ys Book I & II
Alien Crush
Dungeon Explorer
R-Type, Ninja Spirit, Ys and Alien Crush are all pretty highly regarded.
The Japanese version, meanwhile - the PC Engine mini - has a different line-up:
Bonk's Adventure
Dracula X (Castlevania: Rondo of Blood)
The Kung Fu (known as China Warrior locally)
Ys I & II
Super Star Soldier
Dungeon Explorer
We wouldn't be surprised to see Bonk's Adventure making its way to the western version, and Rondo of Blood is a cool choice. China Warrior is an odd choice, though - it's awful.
We'll keep you updated when more games - and a release date - are announced.