Kinect to be updated to allow video chat with Lync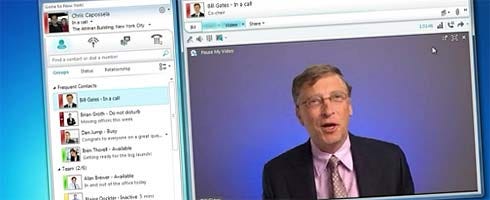 Microsoft said yesterday that Kinect is to act as a bridge between "the boardroom and the living room," and will have its software upgraded to allow it to work with the company's new business-aimed video and audio conferencing software, Lync.
Lync is a premium product that features - according to ZDNet and CNET - an instant messaging system; an audio and video conferencing tool; and a voice call service.
A bit like a posh MSN with some added Skype. That you pay for. Sounds amazing.
Microsoft apparently showed people chatting through Kinect and a PC. No date was put on the software update that's going to make this irrefutable magic happen.
Bill Gates personally demoed the PC portion of the new software, and did a little stargazing on its future, saying updates like voice and facial recognition, as well as touch interfaces, were all possible.
Kinect already allows for video chat with PCs through MSN Messenger.