Injustice 2 trailer provides a first look at Teenage Mutant Ninja Turtle gameplay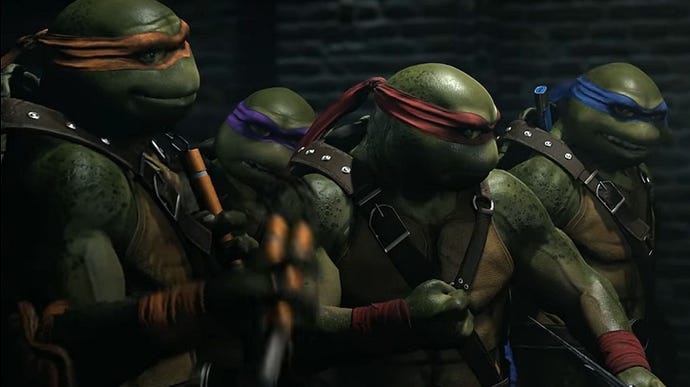 A new Injustice 2 video has been released, and in it we're given a look at some Teenage Mutant Ninja Turtles gameplay.
Netherrealm announced in November 2017 Fighter Pack 3 for Injustice 2 would contain the Teenage Mutant Ninja Turtles, and how each will function in the game is shown off in the new video.
Each of the Teenage Mutant Ninja Turtles will play as four distinct characters using the game's gear customization system. By equipping each character's main weapon, players will be able to change their character loadout: Twin Katana (Leonardo), Bo (Donatello), Sai (Raphael), and Nunchaku (Michelangelo).
All feature their own unique move sets, character powers and special moves.
In online and tournament modes where specific loadouts are unavailable, which could include EVO 2018, players will be able to select each individual Turtle from the character select screen.
The Teenage Mutant Ninja Turtles are the last content update as part of Fighter Pack 3, and will be made available for Injustice 2 players on February 13. The content will be available to those without the Fighter Pack as a standalone purchase beginning February 20 for $9.99.