inFamous 2 details hit from GI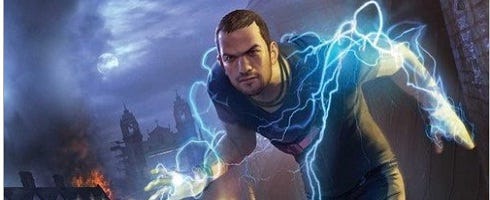 Details of inFamous 2 are hitting tonight thanks to the latest issue of Game Informer.
News coming in from the states suggests that the game takes place in a new city called New Marais, which is a fictional New Orleans.
Other details are as follows:
Cole hasn't aged either way, instead he is simply re-designed.
Cole's voiced by a new voice actor.
Cole will be spending his time in the game becoming a "super-super hero" in order to be able to beat the beast, this will involve him will be ramping up his power from the last game.
There are now real cut-scenes as well as the traditional comic strip narrative.
You wont just jump up buildings but will construct ways to make it up buildings using objects.
There will be some new powers outside of electricity but Cole will still be the electric super hero.
Melee weapons feature.
Zeke is more helpful.
More people, cars and generally more happening in the game.
This is everything for now, however expect a lot more over the coming days now that the US are getting hands on with their copy of Game Informer.
E3 will no doubt bring lots more information on inFamous 2 in a weeks time.
Thanks, Malekwat (via PlayStation Informer).