Hitman 2 June roadmap features a new location, Elusive Targets, Escalation Contracts, more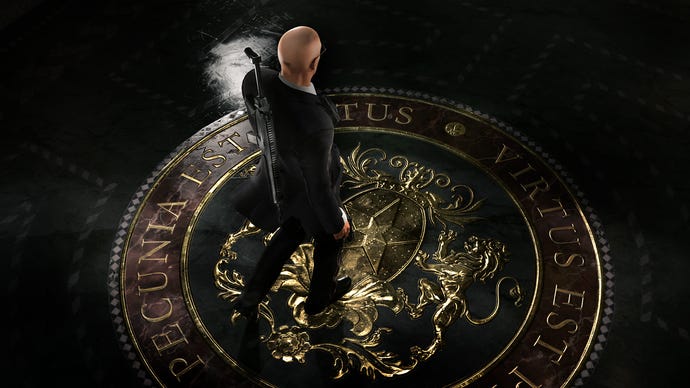 Io Interactive has provided look at upcoming content for Hitman 2.
The June content roadmap for Hitman 2 is live. You can expect the new sandbox location The Bank, if you own the Expansion Pass, but there's free content for all as well.
On June 7, The Guru and The Congressman are two Legacy Elusive Targets back in Sapienza. The two will be there at the same time, and will be under the same contract. Completing the contract will count as one towards your progress for unlocking suits. The contract will be live in-game for 10 days.
You'll need to own the Legacy Pack to play this Elusive Target, so make sure you download it.
A new Escalation Contract goes live on June 13. Called The O'Leary Conflagration, you will be tasked with "interfering in the business practices"of Helen's Muffin Kitchen.
The theme for featured contracts this month is Greed Kills, and all will be intentionally left open-ended to give content creators something to work with. Featured Contracts will allow you to unlock the Handyman Toolbox when completing the Contract Master Challenge, which requires 40 Featured Contracts completions.
On June 20 aother Escalation Contract goes live: the Unpalatable Termination. Here you will take off to Miami to complete three stages of escalation. The focus will be 47's ability with a shotgun.
A new location, The Bank will be added to the Expansion Pass and Expansion Pack 1 on June 25. It takes place at a US-based investment bank and includes a new campaign mission titled Golden Handshake. More regarding the location will be revealed closer to launch.
That same day, two Special Assignments missions will be added to the Expansion Pass. One is located in Mumbai (Embrace of the Serpent) and the other Santa Fortuna (Illusions of Grandeur). Each feature a new target and set of challenges.
Both take place at different time of day compared to their location's main mission. Some elements of the location have been changed to support Special Assignments. Contracts Mode will not be enabled for these missions.
Special Assignments are included in the Expansion Pass or Expansion Pack 1 and more Special Assignments will be released as part of the Expansion Pass later this year.
Finally, on June 27 and June 28, another Escalation Contract and Elusive Target will arrive, respectively.
The Escalation contract takes place at the aquarium in Miami, and the Legacy Elusive Target is Mr Giggles (The Entertainer), located in Marrakesh.
Hit up the official website for additional information.