Guitar Hero 5 gets new drums and trickling track list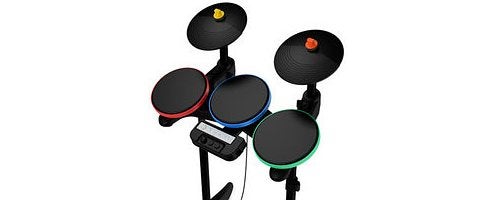 Guitar Hero 5 has a new drum kit, and that's it pictured above.
The difference between this set and the ones included with World Tour are the cymbals, which these look more like "real" cymbals.
Activison also saw fit to release another list of tracks for the game.
We have covered these already, but just in case you missed the list, it's after the break courtesy of Kotaku.
What we are wondering is if the track" Du Hast" will be the German version or the translated version.
It loses its effect when translated, ya know.
Attack! Attack! UK - "You And Me"
Bon Jovi - "You Give Love A Bad Name"
Darker My Love - "Blue Day"
The Duke Spirit - "Send A Little Love Token"
Elton John - "Saturday Night's Alright (For Fighting)"
Face To Face - "Disconnected"
Garbage - "Only Happy When It Rains"
Kaiser Chiefs - "Never Miss A Beat"
Kiss - "Shout It Out Loud"
Love and Rockets - "Mirror People"
My Morning Jacket - "One Big Holiday"
Nirvana - "Lithium (Live)"
The Police - "So Lonely"
Rammstein – "Du Hast"
The Rolling Stones - "Sympathy For The Devil"
Sonic Youth - "Incinerate"
Screaming Trees - "Nearly Lost You"
Sublime - "What I Got"
The Sword - "Maiden, Mother & Crone"
Thin Lizzy - "Jailbreak"
Tom Petty & The Heartbreakers - "American Girl"
The White Stripes - "Blue Orchid"