GTA Online Bikers DLC: Just $2.4 million will buy you all the new motorbikes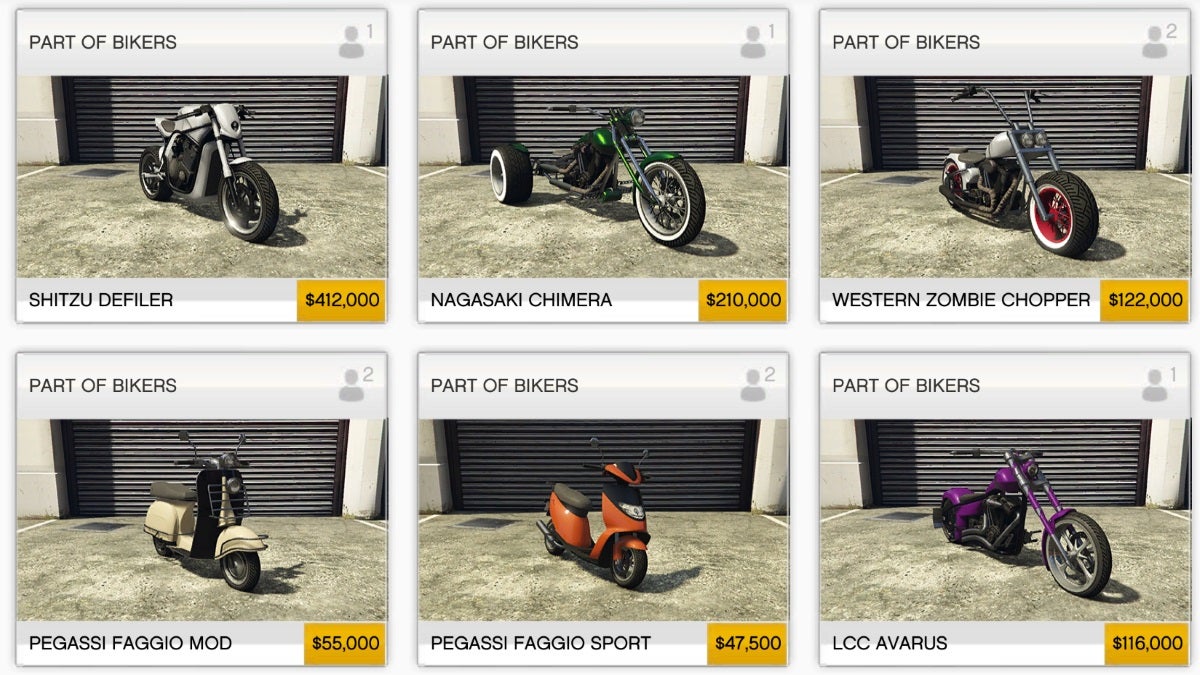 Is this the cheapest vehicle update yet for GTA 5?

The much-requested Bikers DLC for GTA Online has gone live today, letting players finally get their hands on a whole new set of vehicles, weapons, clothes and more.
The big additions are the new rides, a tasty selection of choppers, new performance motorbikes, with a new quad, trike and dirt bike thrown in for good measure. Oh yeah, and some mopeds.
You can now buy a Clubhouse in-game, which also acts as a 10-bike garage. Meaning you could buy pretty much all of the fresh bikes and store them in your new lock-up.
But how much are all the bikes going to cost the serious collectors? A grand total of $2,438,500, which in GTA money, is pocket change.
Here's all the prices:
Hakuchou Drag - $970,000
Shitzu Defiler - $412,000
Nagasaki Chimera (trike) - $210,000
Nagasaki Street Blazer (quad) - $81,000
Western Zombie Chopper - $122,000
Western Nightblade - $100,000
Western Zombie Bobber - $99,000
Western Wolfsbane - $95,000
Pegassi Faggio Mod - $55,000
Pegassi Faggio Sport - $47,500
LCC Avarus - $116,000
Miabatsu Manchez - $67,000
Western Rat Bike - $48,000
Western Bagger - $16,000
But it's not all cheap. The Clubhouse is going to be the most expensive thing you can buy in the GTA Online Bikers DLC. Much like the yacht or offices from the CEO update, you can buy a shell and then customise it with your Motrocycle Club name and other features, including a custom bike shop.
Update: Whoops, we missed a bike off, the Hakuchou Drag. Still, those prices are pretty damn reasonable, hey.