GameStop reveals MvC3 CE, DLC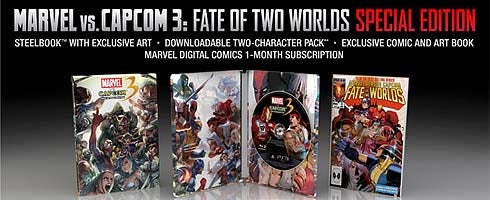 GameStop's just posted details of what looks to be an excellent Collector's Edition of Marvel vs Capcom 3.
For you $70, you'll get:
Steelbook case featuring exclusive art work
Comic/Art book- A 12-page prologue comic, written by Marvel writer Frank Tieri, plus campaign art and a curated selection of fan art.
1-month Subscription to Marvel Digital Comics, providing unlimited online access to Marvel content
2 Playable DLC Characters – Shuma Gorath and Jill Valentine. Content is available 4 weeks post-launch.
Pre-order through GameStop and you'll get some "console decals" as well.
The fighter's out next February. The game's latest characters, Zero and She-Hulk, were confirmed last night.
Thanks, Destructoid.