More spooky Fortnite skins leaked ahead of Halloween event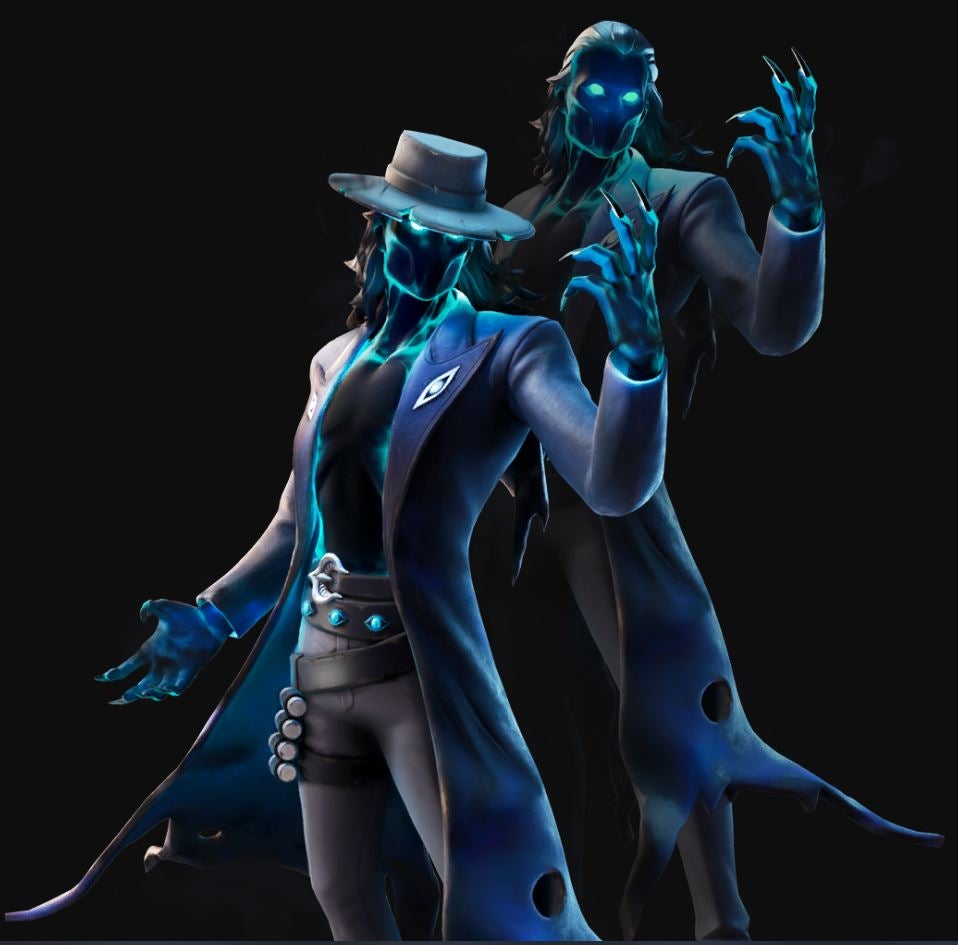 Fortnite's Halloween event is creeping closer, carrying a cryptful of spooky skins along with it.
We've seen more than a few drop in the Item Shop already, including the terrifying Big Mouth with the Fearsome Freaks set, as well as the zombified soccer players in the Dead Ball set.
Today also saw the release of the Cryptic Curse bundle, which includes Wrath, and a pumpkin-themed Style for the classic Raptor skin.
For a subtler scary flex, there's the Back-o-Lantern bling too.
Still unreleased in Fortnite's files though are tons more horrific outfits to add to your locker.
There will also be a ton of Fortnitemares challenges to complete too.
Leaked Fortnite Halloween skins
These images - unless embedded in tweets - were uncovered by FNBR.
Deadeye
This animated Legendary skin will be the pick of the bunch for most people. It kind of carries on the cowboy theme started with the Calamity skin in earlier seasons, but with a more ghostly and poverty evil edge.
Haze
Haze is a fun Rare-level skin with multiple styles. She starts out reminiscent of the Power Chord skin, then turns into a demon.
Hemlock
The Epic-tier Hemlock skin is two Halloween costumes in one. The default skin is a cool witch outfit, but she also has a selectable style with a monster mask.
Grim Fable
One of the best know fairytales by the Brothers Grimm is their version of Little Red Riding Hood. It looks like Red got her own back on the Big Bad Wolf if this werewolf hunter skin is anything to go by.
Airhead
You wouldn't want to meet this anthropomorphised target dummy in a dark alleyway, or anywhere else for that matter. The asymmetric details of his arms are cool, and complete the unsettling upper body.
Dark Rex
A new twist on another classic outfit, Dark Rex is probably an equipable style like the pumpkin "Glow" version of Raptor.
Dark Tricera Ops
The female version, Tricera Ops, also gets a dark new flavour - which will probably be a selectable Style too.
Extra Leaked skins
There were a few extra skins leaked alongside the others in today's update file, they were:
Surf Rider
Trench Raider
BushRanger
Riley
The Halloween treats don't mean that the regular season challenges are stopping. If you're still trying to find the letter F in Fortnite, find the letter O in Fortnite, or find the letter R in Fortnite - here's where to look.