EA and DC team up for new Dante's Inferno comic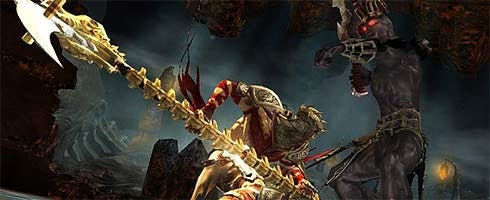 Electronic Arts and DC comics have teamed up to reveal that Visceral Games' Dante's Inferno will have a six issue graphic mini-series made in its honour with the first issue due in December this year.
The comic is illustrated by Diego Latorre (The Incredible Hulk) and written by Christos Gage (X-Men/Spider-Man, Wildcats), so the prestige is there for it not to be crap.
However, if you're going to ComicCon this week, you can pick up a special issue #0, and get it signed by the above.
We're not there. Awesome.
Dante's Inferno is out for PS3 and 360 in January.
Full thing after the break.
more
EA and DC Comics Enter Nine Circles of Hell with Dante's Inferno Comic
Visceral Games Invades Comic-Con with Special Edition Preview Issue Giveaways, Limited Edition Signings, the World Premiere Trailer for the Starz Media Animated Feature and More
REDWOOD CITY, Calif.--(BUSINESS WIRE)--Visceral Games™, a studio of Electronic Arts Inc. (NASDAQ:ERTS - News) today announced a collaboration with DC Comics/WildStorm to develop a comic book mini-series based on Dante's Inferno™, EA's video game adaptation of part one of "The Divine Comedy." The comic will make its world debut at Comic-Con International in San Diego from July 23 – 26. Also at the show, Visceral Games™ and Starz Media will screen the world premiere trailer of the "Dante's Inferno" animated feature, which will be released on home entertainment platforms day-and-date with the EA game in 2010. These two brand extension projects are based on EA's adaptation, telling Dante's epic story from a fresh, contemporary perspective and further exposing the classic to an ever wider pop culture audience.
A special "Issue 0" preview edition of the Dante's Inferno comic will be given away at Comic-Con International 2009 in San Diego next week July 23rd through July 26th at the EA (Booth #5213) and DC Comics (Booth #1915) booths. The game will also be featured at the following events during the show:
* "Go to Hell With Dante's Inferno" Panel – EA, DC/WildStorm and Starz Media present a panel discussion about how each group has translated the various aspects of "The Divine Comedy" into a video game, a comic series, and an animated feature. Find out from the creative minds behind each adaptation, where they were faithful and where they invented and get a peek at EA's game in development, and be among the first to watch the world premier trailer for the animated feature "Dante's Inferno" co-produced by EA and Starz Media's Film Roman animation studio. The panel is at 12:30 PM – 1:30 PM on Thursday, July 23rd in Room 8.
* Dante's Inferno Comic Preview Issue Signings – Artist Diego Latorre and writer Christos Gage will be at the DC Comics booth signing free copies of the Dante's Inferno comic preview issue. The signings will take place at 2:00 PM – 3:00 PM on Friday and Saturday and at Christos Gage will be signing them at the EA booth on Thursday from 2:00 PM – 3:00 PM.
* Dante's Inferno Limited Edition Lithograph Signing – Diego Latorre has created a special, limited edition lithograph exclusively for Comic-Con, with only 750 copies available. He will be signing these copies at the EA Booth. These signings will take place on Friday, Saturday and Sunday from 11:00 AM – 12:00 PM.
* Play the Dante's Inferno Game – One of 2010's most highly anticipated action-adventure games will be playable for all show attendees at the EA booth during all exhibition hours!
Illustrated by Diego Latorre (The Incredible Hulk) and written by Christos Gage (X-Men/Spider-Man, Wildcats) the Dante's Inferno six-issue comic miniseries will go on sale beginning in December 2009. Created by Visceral Games, Dante's Inferno is set in the poem's vividly imagined nine circles of hell – limbo, lust, gluttony, greed, anger, violence, heresy, fraud and treachery. Players take Dante on an epic descent through hell, battling their way through a terrifying gauntlet of demons to reclaim the soul of his beloved Beatrice. The Dante's Inferno comic will highlight the action-packed moments in the game, and will also deliver more perspective on Beatrice's experience, adding more depth to the game's story and exploring more of the poem's dramatic depiction of the underworld.
"Dante Alighieri's "The Divine Comedy" is an incredibly rich piece of source material. It is a literary classic teeming with demons, monsters, danger and doom. It is the perfect backdrop to our action-adventure story," said Jonathan Knight, executive producer of Dante's Inferno. "We are extremely excited to be working with great partners like WildStorm and Starz Media to expand the story and deliver our adaptation to other powerful media."
"When Christos and I saw the early gameplay demo of the game, our jaws just hit the floor," said Hank Kanalz, Vice President and General Manager, WildStorm. "The nature of this game, as well as the original work, inspired WildStorm to take a unique approach in the creative. Diego Latorre's art is outstanding and atypical for a game-based comic. EA has really set the bar high, and we strive to achieve or surpass the mark with this book."
EA's Dante's Inferno will be in stores in 2010 for the Xbox 360® videogame and entertainment system, the PLAYSTATION®3 computer entertainment system and the PSP® (Sony PlayStation® Portable). The game has not yet been rated by the ESRB or PEGI. For more information about EA's Dante's Inferno, please visit www.dantesinferno.com and follow the Dante's Inferno team at Visceral Games on Twitter at www.twitter.com/danteteam.
About Electronic Arts
Electronic Arts Inc. (EA), headquartered in Redwood City, California, is a leading global interactive entertainment software company. Founded in 1982, the Company develops, publishes, and distributes interactive software worldwide for video game systems, personal computers, wireless devices and the Internet. Electronic Arts markets its products under four brand names: EATM, EA SPORTSTM, EA MobileTM and POGOTM. In fiscal 2009, EA posted GAAP net revenue of $4.2 billion and had 31 titles that sold more than one million copies. EA's homepage and online game site is www.ea.com. More information about EA's products and full text of press releases can be found on the Internet at http://info.ea.com.
About DC Comics
DC Comics, a Warner Bros. Entertainment Company, is the largest English-language publisher of comics in the world and home to such iconic characters as Superman, Batman, Wonder Woman and the Sandman. These DC super heroes and others have starred in comic books, movies, television series (both animated and live-action) and cyberspace, thrilling audiences of all ages for generations. DC Comics' Web site is located at www.dccomics.com.
About Starz Media
Starz Media, LLC, is a programming production and distribution company operating worldwide. It includes the Film Roman, Anchor Bay Entertainment, and Manga Entertainment brands. Its units create animated and live-action programming -- including theatrical films -- and programming created under contract for other media companies. It distributes that programming, and programming acquired from outside producers, through home video retailers, theaters, broadcasters, ad supported and premium television channels, and Internet and wireless video distributors in the US and internationally. Starz Media (www.starzmedia.com) is a controlled subsidiary of Liberty Media Corporation attributed to the Liberty Capital Group.
EA, EA SPORTS, EA Mobile, POGO, Visceral Games, Dante's Inferno and Dead Space are trademarks or registered trademarks of Electronic Arts Inc. in the U.S and/or other countries. Microsoft, Xbox and Xbox 360 are either trademarks or registered trademarks of the Microsoft group of companies. "PLAYSTATION", "PSP" and "PlayStation" are registered trademarks of Sony Computer Entertainment Inc. All other trademarks are the property of their respective owners.