Disney Infinity: Toy Box 3.0 arrives for mobile devices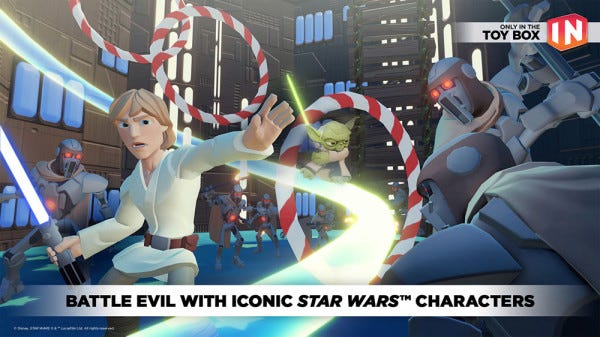 Disney Interactive has just launched Disney Infinity: Toy Box 3.0 as a free download (with in-app purchases) for iOS, Android and Amazon devices.
Announced in a blog post by Sean Patton, Senior Producer for Disney Infinity mobile, the new version of the mobile Toy Box allows you to use Disney Infinity figurines by entering the web codes included in their packaging. The game is forward compatible with previously launched figurines, as well as the new 3.0 characters.
"This launch is especially exciting for us because mobile has consistently been the most popular platform for Disney Infinity in terms of the number of players, and the overall engagement of the community", Patton says in the post. "In fact, mobile players upload and download more Disney Infinity Toy Boxes through mobile devices and tablets than on any other platform."
Players will be able to share their levels with the communities on the other versions of Disney Infinity 3.0, and will be able to download any Toy Box level that has already been created and uploaded.
The mobile edition of the game does not include the Play Set adventures that are available on console.
Disney Infinity 3.0 was released in late August for PlayStation 4, PlayStation 3, Xbox One, Xbox 360 and Wii U. It was received very well by critics.