Devil May Cry 5 is Proof That We're in an Action Game Renaissance
From Bloodborne to God of War, it truly is a great time to be an action game fan.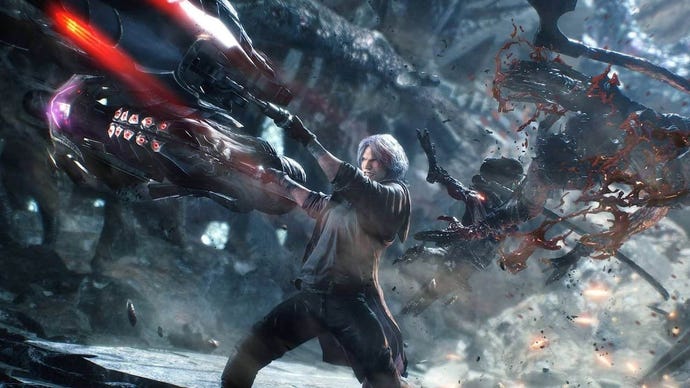 This article first appeared on USgamer, a partner publication of VG247. Some content, such as this article, has been migrated to VG247 for posterity after USgamer's closure - but it has not been edited or further vetted by the VG247 team.
Most of the games industry's attention will be focused on The Division 2 this week, but lost among the constant push for more looter shooters is an ongoing renaissance for single-player action games. From Ninja Theory to Sony Santa Monica, action fans are blessed with an unusually strong collection of action game developers right now, giving lie to the belief that the genre could never translate to the online era.
Devil May Cry 5 is the latest action game to explode out of the gate with strong reviews and positive buzz. Following on from the success of Resident Evil 2 and Monster Hunter: World, it's being hailed as the latest step on Capcom's road to recovery. In just a couple weeks, FromSoftware will be releasing Sekiro: Shadows Die Twice, a mix of elements from Tenchu and the Soulsborne games.
It's not easy to call out any one reason for this golden period, save maybe for an oversaturation of "service games" leading to a corresponding uptick in demand for rich single-player experiences. It certainly helps that some of game development's brightest minds are in the action genre, from God of War's Cory Barlog to Dark Souls' Hidetaka Miyazaki. We're also in a period where established brand names are in extremely high demand, making publishers more apt to turn to familiar names like Devil May Cry to break through the mobile games, streaming, and every other entertainment option competing for our rapidly diminishing attention.
Of course, in this era of increasingly blurred genres, it's not exactly easy to say what an "action game" might be. But as I see it, the action genre comprises games that prioritizes combat over puzzle-solving (The Legend of Zelda) or roleplaying (The Witcher 3). Devil May Cry 5 is the platonic ideal of the action genre: a game driven entirely by its combo-focused combat. The best action games have a Street Fighter-like feel in the way that they center around timed inputs. It's no surprise then that the best fighting game developer, Capcom, is also a pioneer in the field of 3D action games.
To play Devil May Cry 5 is to rewind history to the early days of the PlayStation 2, when better graphics allowed the action genre to improve by leaps and bounds. I remember Devil May Cry being thrilling, its flashy and highly technical combat exemplifying the power of "next generation" consoles. It was quickly followed by a host of imitators, the strongest of them being God of War, which ended up as one of Sony's strongest first-party games of that generation.
The action genre's focus on graphics and massive setpieces made it one of the period's blockbuster genres, which remained the case during the transition into the following generation. But while Devil May Cry and God of War both received new entries, there were questions about the long-term future of the genre. With online multiplayer garnering more and more mainstream interest, and rising development costs weeding out so-called "B-tier games," the oxygen began to grow thin in the action space, or so it seemed.
One by one, the major players began to drop away. Capcom outsourced Devil May Cry to Ninja Theory in an attempt to appeal to western audiences (resulting in the admittedly excellent DmC). Tomonobu Itagaki left Tecmo, and Ninja Gaiden began a rapid decline soon after. God of War grew stale. PlatinumGames continued to be held in high esteem by fans thanks to Bayonetta, but seemed to constantly be on the brink of financial disaster.
It was in this dark period that FromSoftware unexpectedly stepped into the fray. As the studio behind niche games like Armored Core and King's Field, it had long been known as a C-tier studio, if that, so it came as a bit of a shock when Demon's Souls suddenly came in and revolutionized the action genre with its unique online hooks; eschewing the fast-paced hack-and-slash combat of God of War in favor of deliberately timed counterattacks. It was one of the rare games that spoke to RPG fans and action fans alike, seamlessly mixing the dungeon crawling heritage of the roleplaying genre with hardcore, skill-based battles of the action genre.
Dark Souls' embrace of relentless challenge made it a favorite on the nascent video platforms of the era, particularly YouTube. The best players would garner huge audiences with runs in which they would finish the game without dying, or even taking a hit. Some even managed to complete the game with a pair of Donkey Kong Bongo Drums.
The success of Dark Souls and Bloodborne kept the genre feeling vibrant, even as traditional action developers like PlatinumGames struggled to build sales. It helped ensure that when Ninja Theory suddenly released Hellblade: Senua's Sacrifice in 2017, it had a natural audience. Elsewhere, the runaway success of the Nintendo Switch put Bayonetta back in the public eye. The kicker was the return of God of War as a gorgeous blockbuster action game, which revitalized the series after a long absence.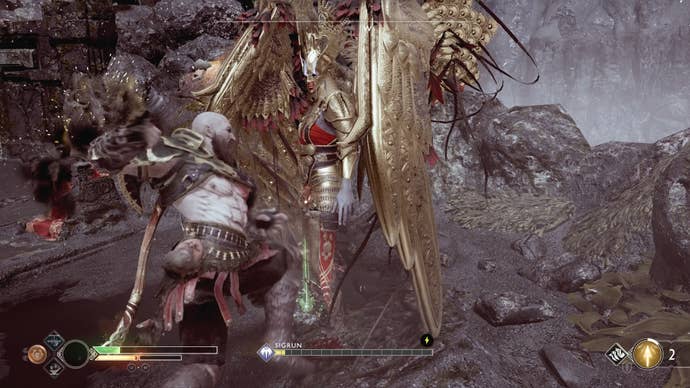 God of War epitomized many of the elements driving the current action renaissance. It smoothly incorporated open-world exploration and light RPG elements, and it told an emotional story, all while presenting some surprisingly excellent combat. Critics were full of praise for God of War's new axe, but where it really shined was in the one-on-one battles with the valkyries, which demanded mastery in recognizing attack patterns and timing out counterattacks. It was the final proof that even a big-budget action game like God of War needn't pull its punches for mass audiences.
With God of War winning multiple Game of the Year awards; Devil May Cry 5 enjoying tremendous praise from critics, and FromSoftware looking strong as ever, it truly is an amazing time for action games. Heck, even Team Ninja is back on the radar thanks to the cult success of Nioh. All we need now is a Ninja Gaiden revival, and the renaissance will be complete.

Major Game Releases This Week: March 11 to March 15
Here are the major releases for the week of March 11 to March 15. Want to see the complete list? Check out our full list of video game release dates for 2019.
The Division 2 [March 15, PC, PS4, Xbox One]: Anthem and Fallout 76 have been massive busts. Can The Division 2 save the day for looter shooters? Ubisoft's track record suggests that it can, though players should be prepared to deal with a massive number of bugs. The early access version is available now in multiple parts of the world, so expect our initial review tomorrow.
This Week's News and Notes
Niantic officially unveiled Harry Potter: Wizards Unite today, and Caty has her full impressions here. As a committed Harry Potter fan, I can't pretend that I'm not excited, but I'll admit to feeling some trepidation about its complexity. Will it match the success of Pokemon Go? Or will be one big mess? I wouldn't be surprised by either outcome.
For retro fans, this lullaby is a sweet salute to the moon theme from the DuckTales NES game. Nice to see the reboot continuing to pay homage to the series' history in all its forms.

Before knocking off for the week, Mike wrote about Left Alive, the new stealth action game set in the Front Mission universe. Given its strong pedigree, which includes multiple members of the Metal Gear Solid team, fans had high hopes. But alas, it looks like a half-baked mess.
Speaking of half-baked messes, Anthem fans are now reportedly organizing a boycott following another round of unpopular loot changes. I seriously can't even figure out what to do with this game. If it's to succeed, it needs to start by actually getting some of the basics right.
I'm sort of between games right now (I'm already done with Devil May Cry 5), so I'm back to working through Witcher 3's massive DLC releases. I'm continuously struck by how good the armor looks in that game. Take note, BioWare: This is how you make gear feel rewarding (it also helps when the gear actually works).

I mostly like Witcher 3 because of the super boss armor sets you can get. And yes, my Geralt is basically Medieval Fantasy Char Aznable. pic.twitter.com/DlCI6LC1GL

— Kat Bailey (@The_Katbot) March 11, 2019

As someone who got her start at 1UP, I'm in awe of how former journos like Brian Intihar and Luke Smith have risen to helm some of gaming's biggest franchises. It was with that in mind that I asked Caty to interview Intihar at last month's DICE Summit. Here's what she wrote.
And finally, The Division 2 is basically out right now. I'm going to go download it as soon as I finish writing up these notes. Want to know more? Check out our Division 2 guides.
Axe of the Blood God: Final Fantasy 6 is the latest entry in our Top 25 RPG countdown, and in honor of one of the greatest RPGs ever made, it's time to talk about the biggest RPG plot twists! Nadia and Kat talk Star Ocean, Mass Effect and more as they break down some of the biggest plot twists in RPG history, as well as whether or not they work. After that, it's time for the main event, as Kat and Nadia talk General Leo, Sabin vs. Sah-bin, letting Cid die, and more in their big Final Fantasy 6 discussion! You can subscribe to the podcast here
If you enjoy reading about great video games, you'll find a neat collection of more in our ever-growing list of the best games of 2019. It's easy to lose track of new releases, so use this list to make sure you don't miss the games we think are essential.