Destiny 2: how to get the Arbalest Exotic Kinetic Fusion rifle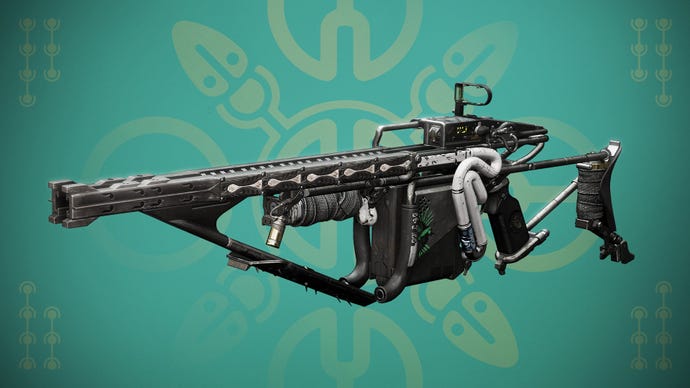 The Revelry Spring event has started in Destiny 2 and there's a new Exotic weapon up for grabs.
You have until May 7 to earn the Arbalest Exotic Kinetic Fusion Rifle, but it's a bit of a grind to get it.
The intrinsic perk and legendary trait for Arbalest are Compounding Force and Disruption Break. Compounding Force fires slugs that cause massive damage to enemy shields, and Disruption Break increases Kinetic Damage taken by an enemy after you break their shield.
In short, Arbalest buffs its own damage perks after you take down an enemy's shields while using it.
It currently costs 300 Reveler's Essence to buy from Eva Levante, but with a catch. You'll also need to unlock the Party Hard Triumph by completing seven out of ten events.
The majority of these events can be done in a fireteam, so grab a few buddies and get ready to revel in it.
Destiny 2: The Revelry - how to get the Arbalest Exotic Kinetic Fusion Rifle
Complete any seven of these Triumph events and you'll unlock the Party Hard Triumph. Some of them involve completing Strikes, doing Verdant Forest runs and generating Orbs of light, and you can easily avoid the Crucible if it's not your thing.
A Bountiful Spring: Complete 50 daily and weekly bounties for Eva.
Budding Fashion: Defeat 20 bosses while wearing at least four pieces of Revelry armour.
Fireworks!: Get 100 grenade kills in Strikes, Crucible and Gambit.
Melee Mayhem: Get 100 melee kills in Strikes, Crucible and Gambit.
Super Celebratory: Defeat 150 enemies using Supers.
Spring Cleaning: Clear 50 Verdant Forest branches.
Spring Hunt: Defeat at least three bosses in a single run of the Verdant Forest.
Verdant Light Competitive: Generate 200 Orbs of Light in Gambit or Crucible.
Verdant Light Cooperative: Generate 200 Orbs of Light in raids or Strikes.
Verdant Light Events: Generate 200 Orbs of Light in the Verdant Forest or any Black Armory forge.
If you complete all 10 events you'll unlock Party Harder and you'll get an exclusive Emblem for being so hardcore.
You can get the Revelric Light buff by landing Precision final blows in Gambit, Crucible, Strikes, raids, Verdant Forest or Black Armory Forges. Triggering this will generate Orbs of Light which you can collect.
Destiny 2: where to find the Verdant Forest
To find the Verdant Forest, you first need to speak with Eva Levante in the Tower. She'll give you the Reveler's Tonic, which you need to use once to unlock Eva's bounties. Speak to her again to pick up the first bounty, Verdant Explorer, and unlock the Verdant Forest.
You can access the Verdant Forest from the Tower - the icon appears at the top of the map in the Director.
There's also the business of collecting 300 Reveler's Essence in order to buy Arbalest from Eva.
Chests in the Verdant Forest will grant you some extra Essence, as will clearing branches and defeating the bosses. Public events and Strikes will earn you around six and 17 Essence respectively, and you'll also be able to get more when you complete bounties for Eva.
If you don't buy Reveler's Assortments or Tonic buffs from Eva, you'll hit 300 Essence in no time. Between picking up bounties and completing the seven events required, you'll hopefully gather enough to buy it as soon as the Triumph pops.
It's not clear if Arbalest will enter the Exotic loot pool after The Revelry ends, so if you want your hands on it soon, jump on with some friends for a few hours to get it.
In the meantime, check out our Destiny 2: Forsaken guide for walkthroughs for succeeding in Gambit Prime, how to get Thorn and where to find Xur and his Invitations of the Nine.