Dead to Rights: Retribution DLC hitting June 1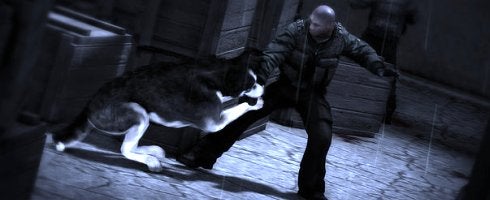 Volatile's Dead to Rights: Retribution hasn't even grown cold on retail shelves yet and Namco has already announced DLC for it.

Called the GAC Pack, it includes two new gameplay modes.
One, Assault on the 87th Precinct, tells another side to Jack and Shadow's story by allowing you to play as the enemy. You can choose from the Brawler, GAC Sniper, or Tank and then try and take over the Grant City Police Department.
The other addition is called the Riot Control Mode,and has the heroic man and dog duo taking on waves of GAC forces for points and Achievements which are then posted to the game's leaderboards.
Also, the "Jack Pack" and "Shadow Pack", which were pre-order exclusives, will be included, and allow you to access armor and camouflage, respectively.
There's also an action mode containing explosive rounds and a cool-sounding noir mode that looks very Sin City, in all it's black, red, and white glory.
The DLC is slated for June 1 for PS3 and Xbox 360, and will run you $5/400 MSP.