Dante's Inferno: Dark Forest DLC will land on both systems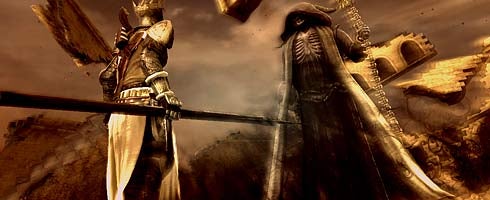 Visceral has revealed that the Dark Forest DLC included in the Divine Edition of Dante's Inferno for PS3, will also be made available on Xbox 360.
Speaking with VG247 during a round-table interview last night, executive producer Jonathan Knight revealed that while the DLC would be made available for both versions, only those who purchased the Divine Edition for PS3 would get it free.
Announced back in December, the exclusive PS3 version includes developer commentaries, the DLC, a Wayne Barlowe digital art book, the game's soundtrack and a digital version of the complete Longfellow translation of Dante Alighieri's Inferno, all for the standard retail price of $60.
In the game, Dark Forest is a prequel level where Dante's lost in the forest and feeling a bit disoriented. Whether this disorientation is physical, psychological, spiritual, or what have you, was not revealed - but it provides more background into who he is and why he chose his particular path in life.
In the epic poem, this beginning stage was described by Dante Aligeri rather vaguely, so this gave Visceral free reign to explore all the possibilities. It was never mentioned whether the Three Beasts -the leopard, lion and she-wolf - would be present or not.
Sounds awesome. We've pre-ordered ours already.
There's loads more from the interview, so be sure to check back with us during the day for more.
Dante starts smacking demon heads February 5, and the DLC is expected to land on both systems in March.