Conan Exiles is now the biggest selling game in Funcom's 25 year history
Conan Exiles is the best-selling and fastest-selling game in Funcom's history.
Funcom has announced that its open-world survival game Conan Exiles has just exceeded 1.4 million copies sold, making it the best-selling and fastest-selling game in the studio's 25 year history.
The record was previously held by 2008's Age of Conan: Hyborian Adventures, which reached 1.4 million copies sold three years after launch. Conan Exiles has broken the same sales milestone in less than half that time.
A new DLC has also been announced, set to launch on August 23.
Jewel of the West is the second DLC for Conan Exiles, and includes weapons, armour, building pieces, and furniture, in the new Aquilonia theme.
Within the game's lore, Aquilonia is "the center of the civilized world" and everything from the buildings to the clothes take inspiration from the Roman Empire.
The pack contains:
39 new Aquilonian building pieces: A full set of building pieces with the same stats as existing tier three.
15 new armor pieces in three sets, such as the Black Dragon armor: Light, medium and heavy sets with an epic end-game version of each.
9 new weapons in one Aquilonian weapon set: Same power as iron weapons with an epic end-game version of each weapon.
5 new Aquilonian warpaints: Decorative warpaints symbolizing, for example, rule and bravery.
25 new placeables, such as the harp and councilor chair, craftable in the Aquilonian Artisan station.
You can check out the gallery of the new DLC below: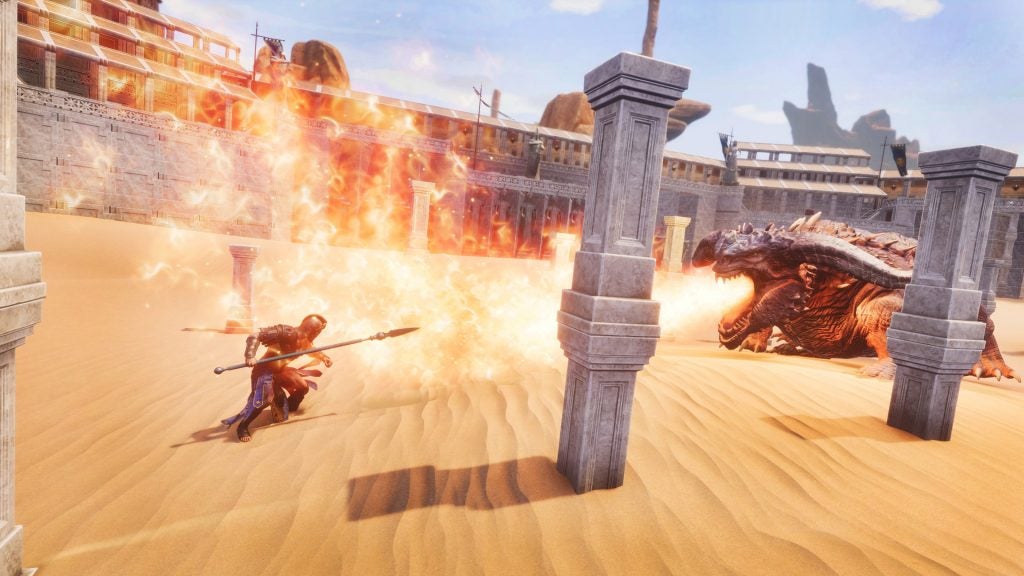 It doesn't have a release date yet, but is set to launch in "early August."
A free update is also on the way, introducing pets and the ability to tame animals into the game.
"In addition to the Jewel of the West, the team is also hard at work putting together one of our biggest free updates yet," said Creative Director Joel Bylos.
"Launching later this quarter, this update will introduce pets and taming to Conan Exiles, allowing players to find and tame anything from camels to panthers and even spiders and then use them to guard their base, carry resources, and more.
"This update will be free to all players on all platforms."