Codies already working on F1 2011, has "exciting things" planned for it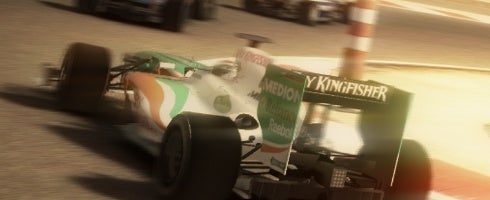 Codemasters has already started work on F1 2011, according to F1 2010 senior producer Paul Jeal and lead designer Stephen Hood.
Speaking with Eurogamer ahead of F1 2010's launch in the UK this Friday, the duo said while most of the staff are taking a much needed break, Jeal and Hood are already looking at ideas for the next installment.
"Paul and I have already started on '11 now," said Hood. "There are some exciting things that we want to play around with."
These ideas do not include title updates for F1 2010, as Jeal said the yearly release of the series doesn't leave the team much time to produce extra content. However, a content update is something Hood would "love to do".
"Yeah, it just would have taken too much development time... the dev cycle for a yearly iteration is so short when you factor in the sign-offs and all that stuff, anyway, that we just want to get our teeth stuck into it," said Jeal, while not confirming if F1 2012 is in the cards as well or not.
"Certainly for 2011, that deal's done and dusted. I think the 2012 deal isn't a million miles away, it's not signed yet, but I guess it depends on the sales, review scores, that type of thing."
Jeal and Hood also admitted the team plans to work harder on the "Live the Life" mode of F1 2010 along with the multiplayer options in F1 2011.
"[We have the most work to do on] Live the Life and multiplayer, just because we've had to invest that much time in the first one on the career, the meat and bones, the driving, the pit-stops, the weather," said Jeal. "We had some great ideas which have been fairly well stripped back in development for both Live the Life and multiplayer."
"Sometimes Paul and I can go into those interviews and it's hard for us, because we know how it's meant to be working. It's disappointing for us when we haven't quite reached that level,"added Hood, who said the developers will "take a more focused approach" on F1 2011's features and aiming for more consistency.
"We're saying these are the core features, these are absolutely essential, the game will hang together if we have these things in. Everything else will be considered a bonus. That's what we haven't done in '10."
F1 2010 hits Europe this Thursday, and is out in the UK on Friday.
It's already out in the US for PC, PS3, and Xbox 360. Check out the launch trailer here.