Codemasters could release smaller retail games which expand with DLC in the future, says CEO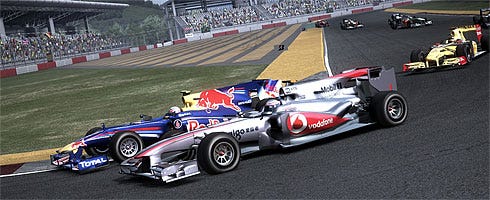 Codemasters CEO Rod Cousens has said in order to combat the used game market, it would not be "inconceivable" for the firm to publish a "game like" F1 2010 partially on disc downloadable content released as the race season progresses.
Speaking with GI.biz, Cousens said a format such as this would not only address pre-owned issues but ones relating to piracy as well.
"It's not inconceivable to say that we send out a Formula One game that's not complete - maybe it's got six tracks," he said. "Then they have to buy their next track, and you follow it around the world. When you turn up in Abu Dhabi you have to pay for the circuit, and whatever the changes are to the cars that are put through. That, I think, would deal with a lot of it, and also address the pre-owned.
"What we have to figure out is how we're going to work together [with retail] to make this happen. If retail takes a confrontational point of view and says that if we go online, they won't stock the box - and publishers then say that all they're going to do is put out DLC after launch that retail can't participate in... it's ridiculous.
"Actually, you need them to get to the stage where they stock the box. It's not inconceivable that you're going to ask them to give the box away at some point in time. But then, they participate to an extent in the subsequent DLC exploitation."
Cousens has said in the past that traditional publishing's the "model of the dinosaurs", after Reliance Big Entertainment purchased a 50 percent stake in the firm, allowing Codies to focus more on the digital end of the company and become a contender with larger publishing and development houses.
Speaking with MCV, Cousens believes that Reliance's $81M in market capital along with it's experience in the MMO, online casual and mobile gaming markets, secures the "longterm future" for Codemasters and it's digital space.
GameStop already offers Xbox Live content through its retail and online stores, and just last week announced DLC made available on PlayStation Network will be purchasable with the retailer by Christmas, so it probably won't be long before a deluge of retailers start offering the same sort of benefits.