Call of Duty: Modern Warfare 2 and Warzone 2 Season 2 kicks off February 15
Lots of "2's" in that headline.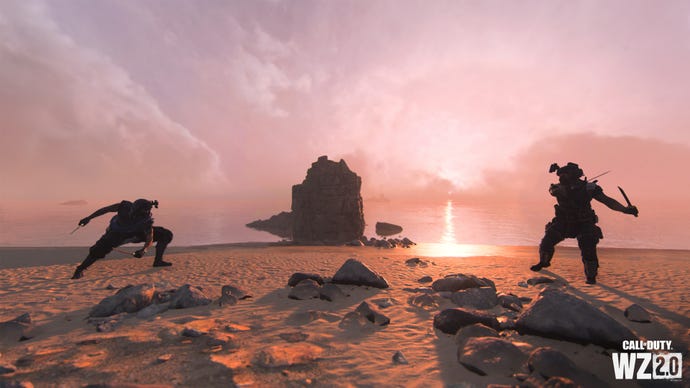 Season 2 kicks off next week in Call of Duty: Modern Warfare 2 and Warzone 2.0.
The Season comes with the new map Ashika Island, sees the return of Resurgence, and includes a new Exclusion Zone, Ranked Play, additional multiplayer maps, and more.
In Warzone 2, the new map Ashika Island is a centuries-old village under siege by Shadow Company forces. There are seven points of interest to explore and have you navigating around a shipwreck, ruins, a modern town center, a beach club, a port, an organic farm, and even a fortified castle.
With the return of Resurgence, all squad sizes can play within regular Playlist updates throughout Season 2. Resurgence Mode allows for multiple respawns as long as one squad member is still standing. If a squad member becomes eliminated while one or more squadmates are still alive, a countdown will appear beside their name. When this countdown hits zero, they will redeploy to the Drop Zone.
The countdown can be shortened by squadmates performing in-game actions such as eliminating enemies. This countdown grows longer as each circle collapses until the final few circles. Here, all redeploys, except those bought through a Buy Station, are disabled. The last squad standing wins.
Resurgence features exclusive to Ashika Island include Restore Honor at launch, and in-season offerings Search and Seizure, Data Heist, Redeploy Drones, and a New Rusher Combatant.
As part of the new season, Ashika Island will be a new Exclusion Zone accessible in DMZ which will continue the narrative with new features like Boss Hideouts.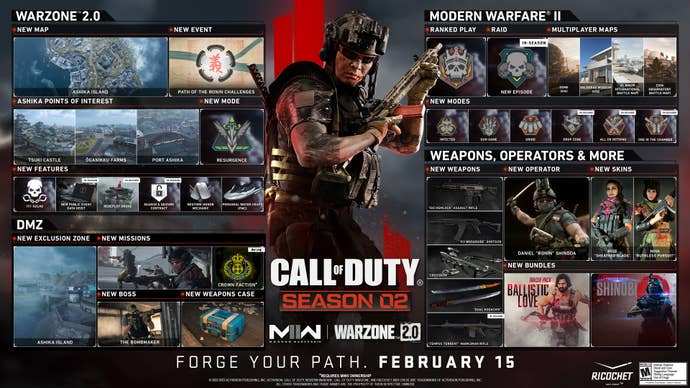 Modern Warfare 2 will receive Ranked Play with Call of Duty League-approved rules, restrictions, maps, and modes. It will include seven Skill Divisions, and you can earn Skins based on your highest rank, including rewards for finishing in the Gold Division or above for the first time.
The Season will see new multiplayer maps at launch, such as core map Dome, a recreation of one of the most iconic multiplayer maps in the franchise. There is also the battle map Zaya Observatory, an expanded version of Dome, and the Al-Malik International battle map.
The other core map launching at the start of Season 2 is Valderas Museum, returning since first appearing in the Modern Warfare 2 beta.
You can also expect new multiplayer modes such as Infected, Gun Game, and Grind at launch. During Season 2, Drop Zone, All or Nothing, and One in the Chamber will arrive.
Raid Episode 2 is coming mid-season. Here, Price, Farah, and Gaz return for a continuation of the Modern Warfare 2 campaign.
The Path of the Ronin Event will be available and present seven challenges to be completed in Warzone 2.0 or Modern Warfare 2 based on the themes of Integrity, Respect, Courage, Honor, Compassion, Sincerity, and Loyalty. Complete every challenge to unlock the new Crossbow weapon.
Speaking of weapons, five will be available at launch. You can get three of these through the Season 2 Battle Pass and the other two weapons through seasonal challenges. These weapons include the ISO Hemlock Assault Rifle, the KV Broadside Shotgun, and the already mentioned Crossbow.
Also coming to Season 2 is the Dual Kodachis Melee Weapon as part of the Battle Pass, along with the new Marksman Rifle during mid-season.
You can also earn a new watercraft vehicle by complementing the armored Patrol Boat and the midsized RHIB.
Finally, the new Operator, Daniel "Ronin" Shinoda, joins the game at launch. Returning from Call of Duty: Modern Warfare (2019), Ronin is an ex-Special Forces fighter able to pick apart defense systems.
For more information on Season 2 of Modern Warfare 2 and Warzone 2.0, hit up the Call of Duty blog.
Have fun.