BioWare: Dragon Age user content on consoles; it's a massively-single-player RPG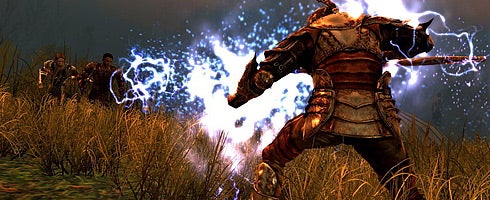 BioWare co-founder Greg Zeschuk has said that because of the tool set included with the PC version of Dragon Age: Origins, he would like to see user created content from it carried over onto consoles.
"We've a lot of DLC plans," he told CVG (Via Joystiq). "There's a slight difference on PC and console, because on PC we provide full user tools that let you modify and create your own levels and stories. You can browse a lot of that user content from within the game.
"On the console side, it's obviously not really feasible for us to provide the toolset, but we are actually looking at ways to potentially share the content created on the PC on consoles. There aren't really any huge technical hurdles to that.
"We are creating a lot of downloadable content that'll be on offer shortly after release. We already have a team working on it, because the core content of the game is pretty much done."
On the other side of the coin, Kotaku noticed during its demo of the game, that at the end of a video that was shown were logos for Twitter and Facebook.
When asked about this, senior product manager David Silverman stated that people should think of Dragon Age as a "massively single-player role-playing game."
Apparently, EA and BioWare plan to find ways to connect communities of players and allow them to be aware of each other's in-game feats.
Hopefully this is the last bit of Dragon Age news for a few days.
No offense, Greg and Ray.