Bethesda E3 2017: The Evil Within 2, Wolfenstein 2, Fallout VR, DOOM VR - all news and trailers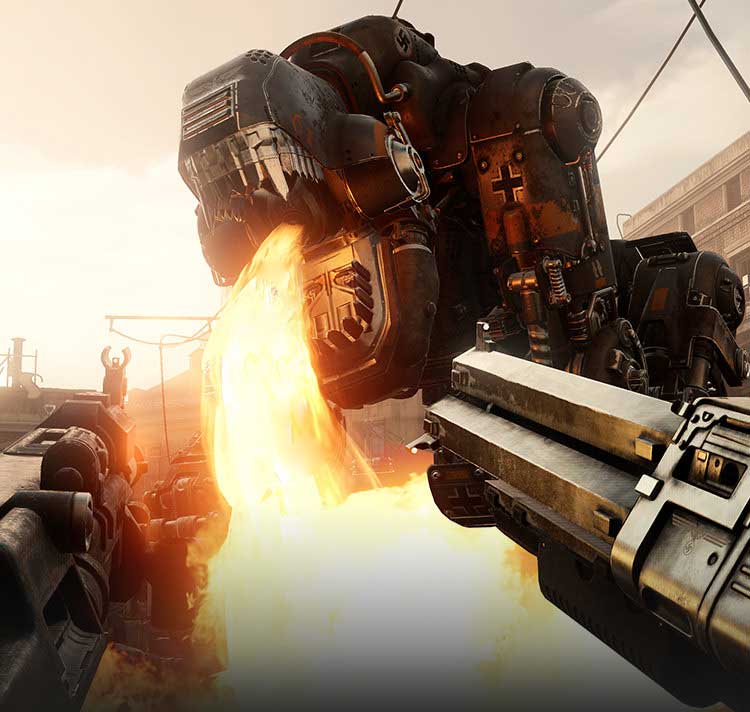 Bethesda brings the big guns to E3 2017. And some small guns, too. Lots of guns, basically.
You can watch a replay of Bethesda's E3 2017 showcase above. For some reason it includes 3 hours of "please hold" footage, so scrub forward to 3:19 to get started.
The show kicked off with a montage of Bethesda staff and their families talking around games and sharing their excitement for the show. Nice to know devs have time to spawn.
After a short intro to the Bethesdaland theme of this year's showcase (a "playground with something for everyone", apparently), Bethesda boss Pete Hines arrived to cheers from the crowd.
We then had a brief recap of Bethesda's recent releases and successes - DOOM, Dishonored 2, Prey, Fallout Shelter, Fallout 4, Skyrim Special Edition and console mods.
Then it was time to get to business, and the first cab off the rank was virtual reality, with two VR games from Bethesda due for release this very year.
The first is DOOM VFR and the second was, of course, Fallout 4 VR. Fallout VR, which releases in October, was described as the first full and complete open world game playable in VR, while DOOM VFR seems to be an entirely new game built specifically for VR, and doesn't have a specific release window.
Next up Bethesda spent a little while talking about how good The Elder Scrolls Online is, including a look at the recent Morrowind expansion.
This was a lead up to something called Creation Club, which is a marketplace for premium content on PC, PS4 and Xbox One coming this summer. It's paid mod scheme, in other words, but there will be content from Bethesda itself as well as partner developers, as well as the best community creators.
Elder Scrolls Legends got a bit of love, too, with word that Android and iOS versions of the card battler are releasing soon. It's also getting a Heroes of Skyrim expansion on June 29.
The Skyrim build of Switch was showcased with word of a Skyrim Amiibo activating a Legend of Zelda Link skin. That's, uh, interesting. Skyrim hits Switch holiday 2017.
Arkane followed with a look at the new Dishonored standalone expansion. It's going to have Billie Lurke - AKA you know who - going after the Outsider himself. 100% piss off mate: I will deck you if you try. This one releases on September 15.
Before we'd recovered from this targeted personal attack, Bethesda moved on to Quake Champions. As predicted, it made a big rah-rah fuss about the title's eSports potential. Keep trying, Bethesda! You'll get a slice of that enormous pie eventually!! The World Championships final takes place August 26 at QuakeCon and there's $1 million in the prize pot. Also, BJ from Wolfenstein is in Quake Champions. There you go.
After this we moved on to something everyone expected but sheered wildly for anyway: The Evil Within 2. The trailer was very dramatic and full of amazingly varied settings and situations, plus a pretty strong hint that the plot will be unfolded somewhat - good news for those of us still puzzled over what was going on in the first one. The Evil Within 2 launches Friday October 13.
The last "coming attraction" of Bethesdaland kicked off with a live-action section with a big robot dog, leading into a cinematic trailer for Wolfenstein 2: The New Colossus. Channeling some of that retro America diners-and-flag-waving of Fallout, but without the nuclear devastation, and seemed to show a Nazi-occupied USA. Well, that's timely, isn't it. It looks amazing, and it's coming out October 27.
So, basically: everything Bethesda announced and showed is coming out this year. Rad!
Notably, there was nothing from Battlecry Studios. Although Bethesda hasn't made a formal announcement we're pretty sure Battlecry was cancelled or overhauled, and it's been a no-show since E3 2016 - and we still don't know what that team is up to - if it still exists.
Stay with us for all the news from E3 2017. Lock and load.