Wolfenstein 2: The New Colossus shows Blazkowicz's greatest challenge: fatherhood (and Nazis)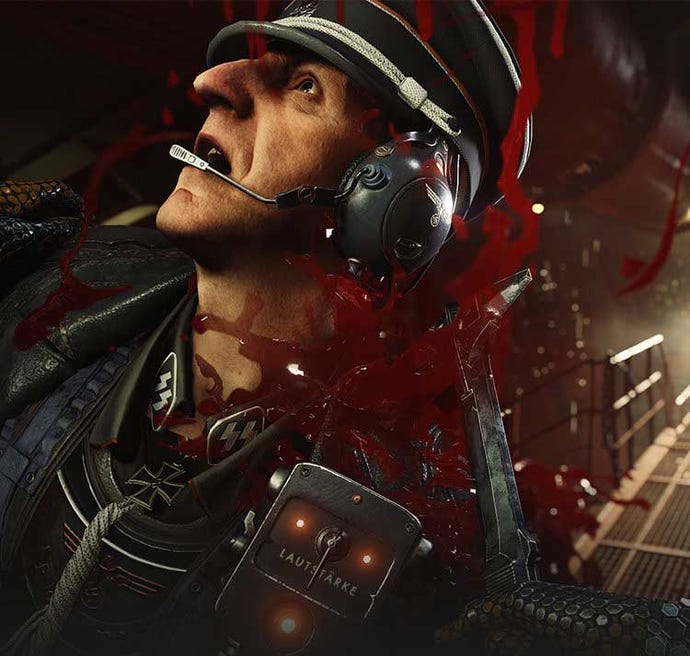 Bethesda has unveiled its follow-up to Wolfenstein: The New Order and Wolfenstein: The Old Blood, and it is absolutely copulating fruits.
Remember how Pete Hines said MachineGames was working on something "fucking bananas"? Holy shit, son! He was not exaggerating!
Wolfenstein 2: The New Colossus was introduced to us with a short live action film. The eponymous colossus was Liesel, which is a big robot fire-breathing dog-thing. There's a weird cat in the trailer too, so there really is something for everyone.
The trailer really leans into Wolfenstein's weird new-found sense of humour and love of storytelling. Blazkowicz is going to be the father of twins now, but those damn Nazis are still causing havoc. They seem to have occupied the good old US of A and nobody is pleased about this situation - except the KKK.
There's not much in the way of action in the trailer, but there's certainly the suggestion that you'll be shooting a lot of Nazis and Ku Klux Klan members as part of a multicultural resistance force.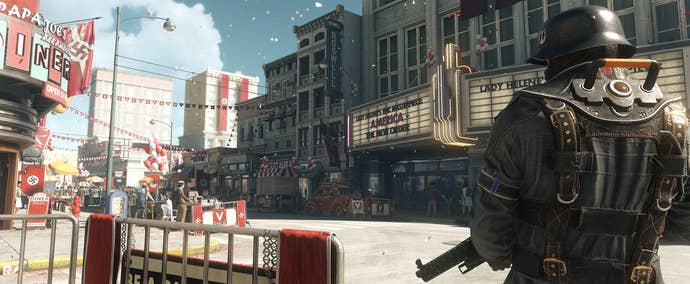 Here's the official description of Wolfenstein 2: The New Colossus:
Your assassination of Nazi General Deathshead was a short-lived victory. Despite the setback, the Nazis maintain their stranglehold on the world. You are BJ Blazkowicz, aka "Terror-Billy," member of the Resistance, scourge of the Nazi empire, and humanity's last hope for liberty. Only you have the guts, guns, and gumption to return stateside, kill every Nazi in sight, and spark the second American Revolution.
It looks like there will be some pretty crazy guns in this one, which is great.
Wolfenstein 2: The New Colossus releases October 27 for PC, PS4 and Xbox One.