Beatles: Rock Band 45th song to remain a mystery until release [Update 2]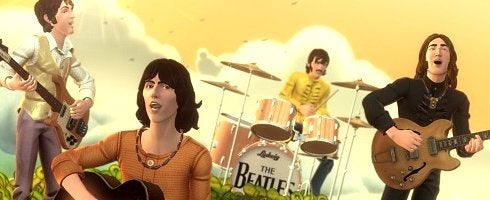 Update 2: Harmonix CEO, Alex Rigopulos, has confirmed "The End" as the 45th song on the The Beatles: Rock Band during the GameStop managers convention in Las Vegas. Good to know.
Update: Apparently the "mystery" song is "The End". Thanks for spoiling it for us internet, and thanks for the lack of creativity Harmonix - if this turns out to be true.
Original Story: Forty-four songs have been announced for The Beatles: Rock Band so far, but there are actually 45 on the disc.
According to an MTV representative speaking with Kotaku, the remaining track is to remain a surprise for people who purchase the game.
Rubber Soul, Sgt. Pepper's, and Abbey Road are to be released not too long after the September 9 release, so it is doubtful it's a track off any of those, unless Harmonix decides to purposely be redundant.
The full track list is below the break so you don't have to go searching the site for it.
Start placing your bets now on what it is. Maybe Eleanor Rigby? Penny Lane? Hey Jude?
Singles
I Want To Hold Your Hand
I Feel Fine
Day Tripper
Paperback Writer
Revolution
Don't Let Me Down
Please Please Me (1963)
I Saw Her Standing There
Boys
Do You Want To Know A Secret
Twist and Shout
With the Beatles (1963)
I Wanna Be Your Man
A Hard Day's Night (1964)
A Hard Day's Night
Can't Buy Me Love
Beatles For Sale (1964)
Eight Days a Week
Help! (1965)
Ticket To Ride
Rubber Soul (1965)
Drive My Car
I'm Looking Through You
If I Needed Someone
Revolver (1966)
Taxman
Yellow Submarine
And Your Bird Can Sing
Sgt. Pepper's Lonely Hearts Club Band (1967)
Sgt. Pepper's Lonely Hearts Club Band/With a Little Help From My Friends
Lucy In The Sky With Diamonds
Getting Better
Good Morning Good Morning
Magical Mystery Tour (1967)
I Am The Walrus
Hello Goodbye
The Beatles (White Album) (1968)
Dear Prudence
Back In the U.S.S.R.
While My Guitar Gently Weeps
Birthday
Helter Skelter
Yellow Submarine (1969)
Hey Bulldog
Abbey Road (1969)
Come Together
Something
Octopus's Garden
I Want You (She's So Heavy)
Here Comes the Sun
Let It Be (1970)
Dig a Pony
I Me Mine
I Got a Feeling
Get Back
Love (2006)
Within You Without You/ Tomorrow Never Knows