250GB Xbox 360 launching with Modern Warfare 2 [Update]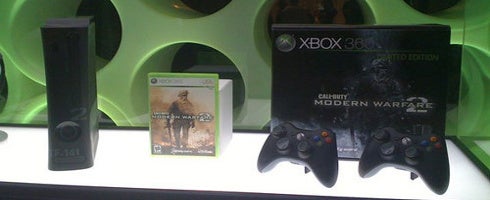 Update 2: You can get all the play impressions and other details from the event here.
Update: The Major brings word that the MW2 SKU will also come with a copy of the "standard" edition of Modern Warfare 2. Night-vision goggles sold separately, it would appear.
During a recent Modern Warfare 2 press conference, Infinity Ward announced that Microsoft's got a 250GB Xbox 360 SKU in the pipeline for Modern Warfare 2's launch.
It'll run COD-devotees $399, and, tonight, walked down Activision's red carpet in a stylish, understated black Modern Warfare 2-themed coat of paint.
If you already have your sights set on MW2 controllers and faceplates, and the goggleful collector's edition, this seems like a no-brainer. After all, what's another few hundred bucks when you're already this deep in the hole?
Thanks, Kotaku.