Grab this incredible Prime Day PS4 bundle with Spider-Man and Horizon Zero Dawn for only $250
The US side of Prime Day has finished warming up now and is ready to kick into high gear. While there are a plethora of impressive deals to choose from, some of the best ones are centred around Sony and the PS4. In fact, this Prime Day PS4 console deal, in particular, is genuinely almost too good to be true.
If you've yet to invest in a PlayStation 4, then the fact that you can pick up this PlayStation 4 Slim 1TB Console – Marvel's Spider-Man + Horizon Zero Dawn Complete Edition Hits Bundle for $249.99 could well be the thing that sways you. Having 1 TB of storage is great if you want to try and go fully digital. Plus, both Marvel's Spider-Man and Horizon Zero Dawn are some of the best games on the console, and they can only be played on PS4.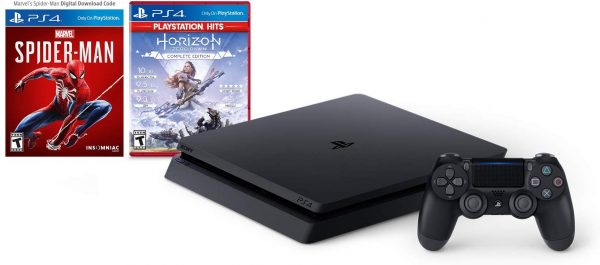 There's way more than just this Prime Day PS4 deal on offer, though. On the subject of console exclusives, it would be a huge error on our part to not point out that you can get yourself a copy of God of War for $19.99 during Prime Day too. Again, another truly exceptional title that if you've never had a PS4, you've never had the chance to play.
Then we've got games like Sekiro: Shadows Die Twice for $44.99, Kingdom Hearts 3 for $19.49, and Spyro Reignited Trilogy for $19.99, which aren't exclusives but are damn fine games that you should play if you've yet to do so.
You can also choose to upgrade to a PS4 Pro 1 TB with Days Gone and God of War for just $349.99.
Finally, if you're planning on playing some local co-op or maybe crushing your friends while they sit next to you, it's worth investing in a DualShock 4 Wireless Controller for PlayStation 4 in Jet Black for $39.99 or a DualShock 4 Wireless Controller for PlayStation 4 in Green Camouflage for $39.99. Just make sure you keep an eye on the latter one, it could be hard to find if you misplace it.
If you want to know what other deals are around, check out our Prime Day gaming deals page. We're keeping it updated with the great things we find on sale over the two days, so make sure to check back regularly.