Xbox Live activity for the week of Feb 22 - MW2 still tops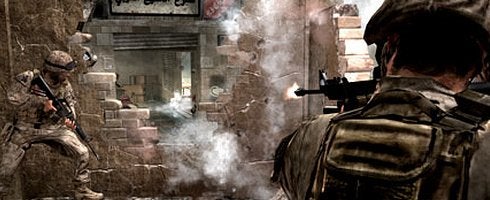 Looks like folks just can't get enough of Modern Warfare 2, as the title was number one again for the week of February 22 on XBL.
Halo 3 came in second, with World at War still drawing in players at number three.
Check out the full list below.
Xbox 360 Top Live Titles
Modern Warfare 2
Halo 3
Call of Duty: WaW
FIFA 10
Call of Duty 4
GTA IV
Battlefield: Bad Company 2 demo
Gears of War 2
Left 4 Dead 2
Mass Effect 2
Borderlands
BioShock 2
Madden NFL 10
Aliens vs Predator Multiplayer demo
Forza Motorsport 3
NBA 2K10
Assassin's Creed II
Aliens vs Predator
Halo 3: ODST
NHL 10
Top Arcade Titles
Duke Nukem 3D
Trials HD
Battlefield 1943
The Misadventures of PB Winterbottom
Castle Crashers
UNO
Hasbro Family Game Night **
Marvel vs. Capcom 2
Magic: The Gathering
Worms 2: Armageddon
Lazy Raiders
Zombie Apocalypse
Peggle
Turtles in Time Re-Shelled
Marble Blast Ultra
Teenage Mutant Ninja Turtles 1989 Classic Arcade
Shadow Complex
Worms
A Kingdom for Keflings
DOOM
Top Indie Games
Avatar Showdown
The Impossible Game
I MAED A GAM3 W1TH Z0MB1ES!!!1
Avatar Drop
Curling 2010
Yet Another Zombie Defense
Shoot 1UP
Anger Management
Avatar Meet Up Live!
Avatar Boogie
Head Shot 2
Miner Dig Deep
Classic Solitaire
Dont B Nervous Talking 2 Girls
Avatar Golf
Soul
Inside Lacrosse's CL2010
Beat Hazard
Who Did I Date Last Night
A Perfect Massage
Original Xbox Top Live Titles
Halo 2
Star Wars: Battlefront 2
Xbox Dashboard
Counter-Strike
Fable
Splinter Cell Chaos
Conker: Live Reloaded
Doom 3
Star Wars: Battlefront
SW: Republic Commando
Via The Major.