Without Tours to Go On, Some Musicians Are Taking to Minecraft
American Football, Hana, and the organizers on why Minecraft offers a viable alternative to live shows.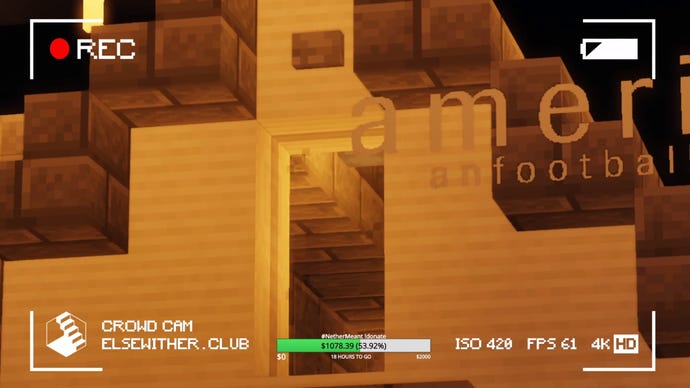 This article first appeared on USgamer, a partner publication of VG247. Some content, such as this article, has been migrated to VG247 for posterity after USgamer's closure - but it has not been edited or further vetted by the VG247 team.
"This is gonna be our last song. You may recognize it from your favorite memes." American Football was closing out the night with a classic, a ballad that embodied every aching moment of teenage angst I'd ever felt. Except instead of instruments, the audio was coming through a stream. The band members were avatars, performing in front of a blocky simulacra of the American Football house. Rather than guitars and drums, it was the chips and chirps more common to games than strings.
I finally got out to my first concert in weeks, and it was in Minecraft.
Nether Meant, which was held last Saturday, is the latest concert organized by Open Pit, a virtual event organizer who operates primarily within the bounds of Minecraft. In the course of one night, the event raised over $8,000 for COVID-19 relief and garnered thousands of listeners in-game, through the audio stream, and on Twitch. All of it centered around Minecraft, a game that one performer joked was on the pajamas his kids wear.
Max Schramp, the marketing and graphic design lead for Open Pit, tells me the idea for Open Pit's Minecraft concerts started with a birthday party joke that eventually escalated into what it is today. It was a game that he and his generation had grown up playing. It's the "perfect sandbox," as he puts it, while also being a readily accessible venue for virtual interaction: "Most people who want to come to these already have Minecraft, you know?"
Past charity events like Coalchella have typically been grander in scale, featuring towering attractions like a ferris wheel, huge marquees, and an Olive Garden inside a McDonald's. (Or a McDonald's inside an Olive Garden, it's a bit of a Matryoshka doll situation.)
Well-known bands like Anamanaguchi have headlined in those, but this event was a little different. The top of the bill featured American Football, arguably the largest band Open Pit has ever booked. Originally, Open Pit was aiming to host a concert later in the summer, but Schramp tells me that once everyone started staying indoors due to the COVID-19 pandemic, things came together fast. The weeks leading up to Nether Meant were a blur of building a world, organizing a lineup, arranging the stream, and getting together everything needed.
The end result was a little more intimate than the theme park attractions that previous concerts were known for. While there were certainly side areas to explore, like a museum of Hatsune Miku art and a gravestone to commemorate the "death" of SXSW 2020, most of the commotion was centered around the concert area, with the famous American Football house that adorned the band's first album looming onstage.
It was a different experience than some of these bands were likely used to, but as American Football drummer Steve Lamos told me, it was an interesting way to explore mixing music with virtual interactions.
"To me, the appeal is the wandering and seeing this crazy virtual world these people have built," says Lamos. "I've played the game a bunch with my kids, but the idea that it's somehow mixing with my musical world is hilarious and intriguing."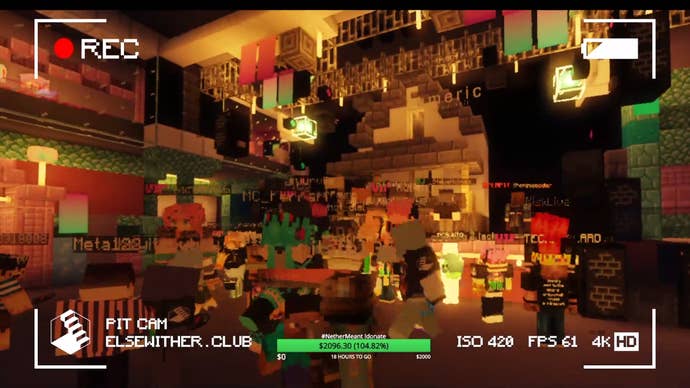 Alongside Anamanaguchi and American Football, performers like Baths and Hana Pestle, a.k.a. Hana, joined the lineup. All of the performances were pre-recorded, though the musician's avatars still hung out on-stage and snapped in-game selfies with fans. Each added their own voiceovers and little touches, like tuning a guitar or noodling around with a riff, to give it a live feel. At points, there was so much server load that you couldn't make out users' movements. Everyone, including performers, moved in a kind of robotic half-step as they tried to jump up and down in time with the music.
"It really felt like a festival with all my friends, you know?" says Hana. "I'm close with the Anamanaguchi guys and we have a song together. We just played a show with them a couple weeks ago, so it really just felt like a recreation of that, just seeing their little avatars running around."
"Never Meant" itself even provided unique opportunities; a song that's been heralded as the greatest emo anthem has also become a meme in and of itself. Schramp mentioned to me the way that artists will drop "Never Meant" in the midst of dubstep, while others edited the song into Arthur cartoons.
Lamos tells me the band got as creative as it could, building a "set list" with some surprises, including the sudden switch of "Never Meant" from normal instruments into Minecraft noises. In lieu of being able to play together in front of a live audience, bands found other ways to shake things up that also, in the case of Lamos, hearkened back to their own personal inspirations.
"For what it's worth, I distinctly remember hearing Rage Against the Machine for the first time as the soundtrack to a Tony Hawk video game," says Lamos. "To me, what we're doing here has some connection to my Tony Hawk-ing 20 years ago or whenever that was."
For others, this was old hat, having performed through games or Twitch streams prior to last Saturday night. Either way, the end result was surprisingly good. Outside some server hiccups, the experience was distinct, yet still stirred those emotions of a real concert.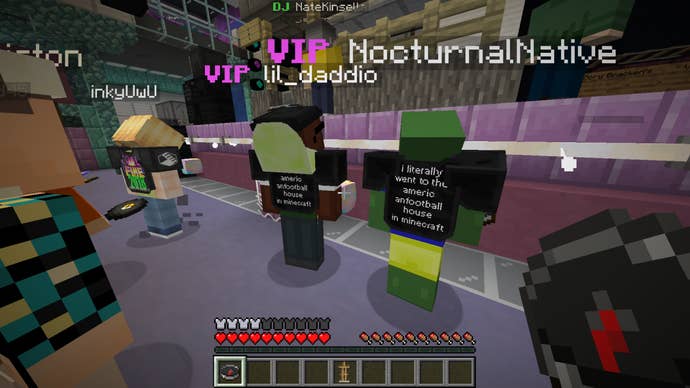 The coronavirus has had an affect on all of us, from our work and livelihoods, to just the day-to-day. Live concerts can be a solace; they're a personal respite of mine, to escape into a crowd for a few hours and let normal worries disappear inside the music. It's a communal experience, with dozens or sometimes hundreds, even thousands, of people all singing, dancing, and living in the same space.
You'd think this might get lost in a virtual world, where players bounce around and do video game things while an avatar stands up on stage with a track playing over the audio stream. But Nether Meant was, at times, inspiring those exact moments of escape.
"For me it was mostly just exciting because I've spent so much time in the Minecraft world," says Hana. "And so having so many people in one place, it was so exciting and cool to play a virtual show in that world."
All around the pit, Minecraft avatars were adorned in novelty shirts saying, "i literally went to the americanfootball [sic] house in minecraft." A VIP area sat over the top of the stage. Artists wandered it, and every now and then I could dip outside and catch some "air" on a faux city street.
Whether it was the guitar riff of American Football's "Honestly?" mechanically surging on, strum after strum, or Hana's "Cowgirl Bebop" seemingly echoing in the space as it reverberated on the stream, there was a feeling of being back in a concert again. A crowd of now-aging millennials, bonding together over massive social distances.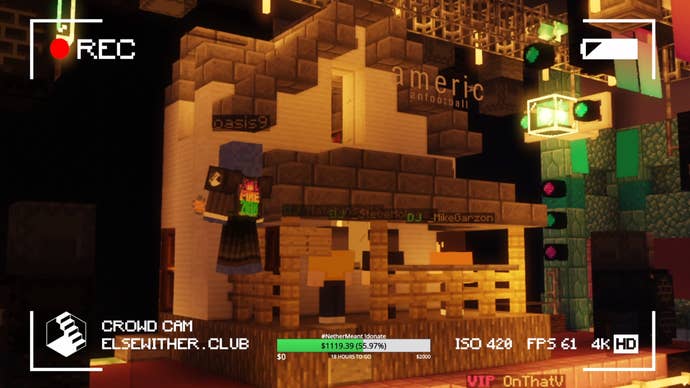 This doesn't mean Minecraft is going to be the next great frontier for musical performance. As band member Mike Kinsella said during the live set, "So this is the future, huh? Honestly, I thought there'd be more pixels."
But right now, it's the next best option, especially for the touring music industry. "No one has jobs, no one has tours, and everyone is struggling," Schramp says. "So this is a good opportunity to both take a break, but also give back to the community."
Lamos says he can't wait to play in front of a live crowd again. When that will be possible, though, isn't really certain. In the meantime, Schramp says Open Pit is planning more concerts, aiming to support different COVID-related charities—it just announced Square Garden, a benefit for Feeding America with artists like 100 Gecs and Charli XCX headlining. With the turnout they've seen, the odds seem good that they can grab even more high-profile performers and start to expand, potentially even build more giant spectacles like the concerts of the past.
"We all miss that, that feeling of gathering together, and anything that gives us a little sense of what feels good," Hana says.
Judging by the flood of Twitch chat comments and in-game chatter when "Never Meant" hit, Nether Meant was what a lot of people needed right now. Not necessarily a virtual playground, but a venue for engaging and coming together in a time of distance and worry. I didn't really mind much that the server lagged, or that Minecraft avatars can't ever truly mimic the living performance of a real musician outside a mild shuffling to-and-fro on stage. For one night, I got to feel that sense of community again; I got to lose myself in the music, and I'm looking forward to when I'll get to do it again.