Weekly MMO news round-up: Shadowbane gets a reprieve, AoC goes lvl 50, Twitter comes to PlayXpert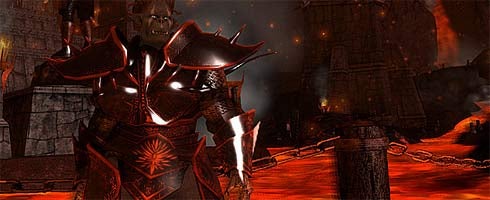 Welcome once again to your weekly MMO news round-up.
Loads going as usual what with PlayXpert releasing a new Widget for online games, Conan players getting to go to level 50, and Shadowbane getting a small reprieve from the death ax.
Wanna know the rest? Of course you do, and it's all after the break.

Star Trek Online revealed another new ship for the game - the Type VII Commercial Laboratory to be exact. The modules of the Type VII can be changed or expanded at many commercial shipyards, allowing you to configure the ship according to the research being conducted. Sounds groovy to us.
PlayXpert has integrated Twitter into its "in-game operating system". So now you can get tweets, and send them in game. Just can't get away from the Twitter monster.
Codemasters/Turbine has issued another "heroes guide". This time it's on Forochel. What a icy, snowy, bear, and worm filled region it is - but you have to go ya know? Check it out here.
The BigBeam region is new to Dream of Mirror Online and there are loads of new adventures for you, a new city, and new shop items. It went live April 22. Hit the link for the full list of changes and additions.
Darkfall has been patched and if you are one of the lucky few who got a chance to purchase the game, you need to read up on the patch notes. The list is much to long and extensive for this post.
Warhammer's Struggle for Nordenwatch went live this week and will run until 8:00am EST on Monday, May 4. If you haven't logged in for a while, you better hurry or you'll miss out. Battle for control over the critical beachhead at the Sea of Claws while enjoying a 10 percent bonus to experience and renown and defeat your enemies while completing tasks to earn a unique title. WAAGH!
Doomsday for Shadowbane has been extended thanks to the outpouring of community support. The game will still shut down, but you have until July 1. More over on the Ubisoft forums.
The Feast of Swords goes live Tuesday, April 28 for Final Fantasy XI Online. Until May 12, adventurers need to beware of brigands trying to stal the legendary Genji Armor from the hands of its rightful owners. It's your job to stop them we reckon, so do it. You'll get a reward it seems.
Closed beta for Warrior Epic went live Thursday, and if you did not get a beta key don't feel bad. We didn't either. "Warrior Epic is an online, action role-playing game set in an original fantasy universe. In the game, players will assume command of a Warrior Hall from which they manage their characters' adventures. They can recruit from a wide array of Warrior Classes, each with its own style of play. The Classes and the Hall itself can be upgraded visually as well as functionally." That came straight from the site. Sounds cool for a free-to-play game.
Age of Conan players will soon get something exciting for their characters. Seems that update 1.05 is progressing well on the test server, but the most exciting thing is that any player who has a level 50 character can start another character and it will start it's life at level 50. Sorry for the run on sentence. We're just that excited about it.
Kid friendly Wizards 101 can now boast two million players. That is a one million jump in subscribers since February of this year. Kid power for the win.