VR Hardware Shortages Loom With Half-Life: Alyx Just 6 Weeks From Release
The Index, Oculus, and even low-end headsets are seeing supply run dry.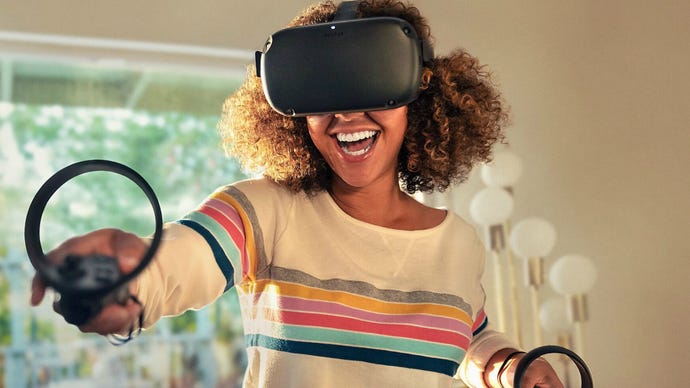 This article first appeared on USgamer, a partner publication of VG247. Some content, such as this article, has been migrated to VG247 for posterity after USgamer's closure - but it has not been edited or further vetted by the VG247 team.
Soon after Valve announced Half-Life: Alyx, the company's inventory of its premium Index Virtual Reality hardware was drained. While Valve says it'll have news on Index restocking soon, both it and Oculus' flagship headsets are currently unavailable for purchase-and, as we learned yesterday, Half-Life: Alyx is less than six weeks away.
In early December, about two weeks after Valve announced Alyx as a SteamVR exclusive, the $1,000 Index went on backorder in the United States. By mid-January, Road to VR found that it was almost entirely sold out in all regions Valve ships to, and that remains the case today. With yesterday's reveal of Half-Life: Alyx's release date, Valve promised "more information on upcoming Valve Index availability soon."
At least in the United States, it's a similar story for the Oculus Quest and Oculus Rift S at the moment. Ahead of the holidays, the Facebook-owned VR company also saw shortages for Quest, a hybrid standalone/PC headset. By late December, both variants of the Quest were on backorder until late February, and now Oculus' official website lists both the Quest and the PC-only Rift S headsets as unavailable. A few retailers such as Amazon, Best Buy, and B & H list the Rift S as available for purchase, but all three are listing the cheaper and more versatile Quest as out of stock.
Since Half-Life: Alyx will support the full range of SteamVR-compatible headsets, these are far from the only options out there. Plus, as the crew from Tested learned on a visit to Valve, the game works fairly well across a range of hardware. Still, with two leading VR manufacturers facing shortages and Steam logging its biggest jump in VR users ever last month, it's clear that demand for VR hardware has seen a significant increase in part thanks to Valve's upcoming release.
Folks who are comfortable spending between $500 and $1,000 on VR can still purchase a set-up from HTC at the moment, though reviews of its new flagship HTC Vive Cosmos system generally see it as a step back from earlier Vive models. On the lower end, $399 manufacturer-refurbished units of the original Vive (which HTC developed in cooperation with Valve) are also sold out at the moment.
At Amazon, the only compatible Windows Mixed Reality headsets that are currently listed as in-stock with no availability warnings are the Samsung Odyssey+ and Dell's Visor.
Valve received a decent amount of pushback from Half-Life fans who're disappointed that Alyx's release is a VR-exclusive, but seems the more pressing matter may be opening the floodgates to new users ahead of its release. Once Half-Life: Alyx out, though, if it's not enough to convince players to hold on to their VR hardware, we could also see a huge increase in the number of used equipment for sale.
Half-Life: Alyx is slated for release via SteamVR for PC on March 23. For more, check out our guide to Half-Life: Alyx's new and returning characters and our feature on the difficult task of making first-person arms feel natural in VR.