Veteran Resident Evil director Paul W.S. Anderson is pitching a Monster Hunter movie to studios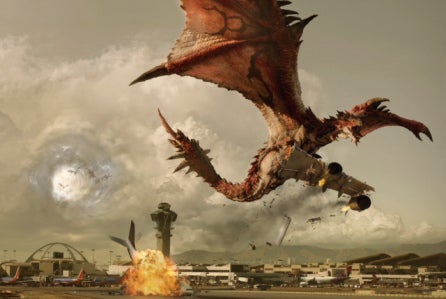 Paul W.S. Anderson may once again bring another Capcom IP to the big screen.
It was recently reported that Capcom is going forward with plans to make a movie adaptation of Monster Hunter, the very popular RPG series.
Paul W.S. Anderson, the director responsible for the Resident Evil movies - another Capcom franchise, actually expressed interest in the idea as far back as 2012. Now that Anderson's journey with the Resident Evil movie series is coming to an end, the Monster Hunter movie has been brought up once again.
According to Deadline, who spoke with Anderson and his producing partner Jeremy Bolt, the pair is currently shopping an early draft of the script to film studios, alongside visual VFX renders of what the movie could look like.
We're still not sure whether or not the movie will be a live-action affair, but we at least have an idea of what monsters may look like from this small image below:
Anderson said that the movie could follow a similar structure to the Resident Evil ones he directed, buy introducing new characters into the established world, seeing as the game doesn't feature central characters.
According to Bolt, Capcom "trusts" Anderson with Monster Hunter the same way it did with Resident Evil, because the director "understands the spirit of the game" but is able to expand it commercially and creatively. Anderson has at least two movies planned, but feels the game's world is big and deep enough to contain multiple story lines.