Unreal Engine code hints at Erebus, a new next-gen console
The latest release of Unreal Engine 4 may have given away the existence of a next gen console.
What appears to be a new gaming platform has popped up in Unreal Engine 4's code. Erebus appears alongside PS4, Xbox, Switch, and other platforms, and if it is indeed a new console, we're guessing it's Sony's, though that's conjecture on our part.
The code in question was posted over on ResetEra after it was found by forum user Gemüsepizza.
Erebus is essentially the god of darkness in Greek mythology, which is a cheery thought.
Sony's PS4 was codenamed Orbis before release, the PS4 Pro's codename was Neo, and the PSVR was known as Morpheus, so Erebus fits in with the run of mythological names.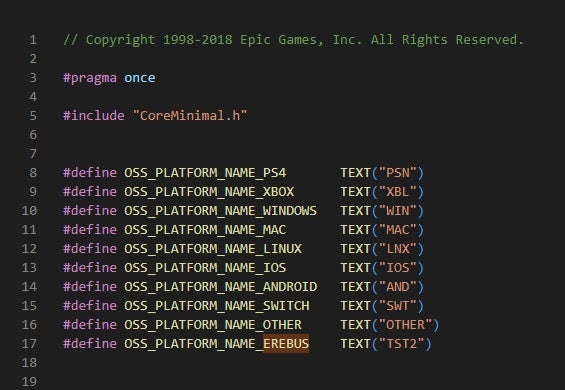 We went to our sources who are familiar with Unreal to break down what it is we're looking at.
"It looks like it's hinting at a new console. In engines you tend to have like a bunch of values to tell you which platform you're on because they all need to run slightly differently," said our first source. "The whole Erebus being a god thing makes sense with the Sony codename branding.
"The [first] screenshot is just the value being set. And the second one is a little bit of code that looks like it's adding cross platform play."
Our second source added, "All this is, is a couple of defines in the code for an unannounced platform," and noted, there's "nothing that would indicate it's a Sony platform.
"All this alludes to is a possible unannounced platform through a single source file change, which is where the online subsystem stuff is ('online subsystem' is an abstraction layer for interactions on online services such as PSN, XBL, Steam, etc)."
As always, take this news with a pinch of salt, but if an unannounced platform with a codename based on Greek mythology does exist, our bet is on it being Sony's.