Torchlight II announced for spring 2011, MMO put on hold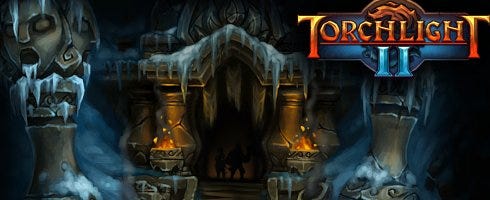 Runic Games has announced Torchlight II through an official website for the game.
Initially slated for digital release in spring 2011, the game adds online co-op, an improved user interface, and fully customizable characters.
Here's a blurb:
The most exciting new feature of Torchlight II is the multiplayer element. Play with your friends, and use the free peer-to-peer matchmaking service to meet new players of a similar level and interest. Together players will discover expansive randomized outdoor areas and deep ominous caverns; random instanced and persistent dungeons, a huge variety of all new monsters and villains, endless variations of loot to find, and quests to complete. Players journey through the perilous Overworld, enjoying all new weather features, time of day events, and a rich and cunning story to drive gameplay.
Features:
Multiplayer – Play with your friends over a local area network, or over the Internet. A free matchmaking peer-to-peer service lets you make new friends for exciting co-op play.
Customizable Characters – Players create and customize a character from one of four classes available and choose an animal companion. Through cosmetic, class, and gender choices, skill path decisions, and the treasures they acquire, each character can be custom-tailored to each player's needs.
Moddability – Torchlight II will release with an updated version of TorchEd, the Torchlight editor. Players have the option to create their own mods, adding even more content to the world. You and your friends can download the same mod and play together!
New User Interface – Torchlight II boasts an entirely new, improved user interface, designed to be easier than ever for new players to pick up and play. Thanks to this intuitive interface, players have immediate access to a rich and varied world, with little experience necessary.
Overworld Areas – Torchlight II has large randomized overworld areas to explore with weather, time of day cycles, and random events that provide players with even more content to experience.
Random Dungeons – Delve into randomly generated dungeons within the game at any time for extra experience and rare loot. Dungeons in Torchlight II have even more branching paths to explore with friends filled with random events, rewards and dangers.
Retirement System – Once characters are sufficiently leveled up, they can "retire" and bestow specific benefits and perks onto new characters.
Pets – Players choose a pet to accompany them. Pets level up along with the player, and help in battle, learn spells, carry items, and perform a variety of support services.
Fishing – Fishing returns in the sequel! Players can take a break from the high-energy pace of adventuring to relax by one of the many fishing holes and see what they can catch. Fish have unique benefits for the player and pet, while a number of other rewards can also be discovered.
Awesome stuff.
Despite all this good news for fans of the game, it looks as those waiting on the MMO planned for the franchise will have to wait a bit longer, as it's been put on hold in order to work on Torchlight II, Runic PR head Wonder Russell told BigDownload.
However, she also said the MMO project would be put back into development once Torchlight II was complete, so that's something at least.
TL2 will be playable at gamescom this month and PAX Prime in September, and for more on the game, head on over to the official website.