Todd Howard: Fallout 76 "Had a Lot of Difficulties During Development"
Bethesda outlines how it will solve the endgame legendary items loop too.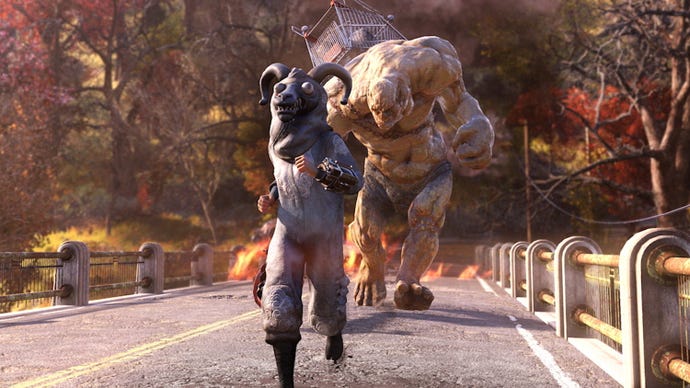 This article first appeared on USgamer, a partner publication of VG247. Some content, such as this article, has been migrated to VG247 for posterity after USgamer's closure - but it has not been edited or further vetted by the VG247 team.
Bethesda kicked off its Game Days series of panels today at PAX East with panels covering series like Fallout and The Elder Scrolls. The first panel of the day was for Fallout 76, and executive producer Todd Howard, senior designer Ferret Baudoin, and development director Chris Mayer were all on hand to talk about what's coming next to Fallout 76, and even offer a bit of a mea culpa for Fallout 76's launch.
"We had a lot of difficulties during development and sometimes those difficulties do show up on screen," said Howard during the Fallout 76 Game Days panel. "You never want them to. We grew the studio, we're four different studios now in North America... and this was a game that really took a ton of people across those four studios coming together to make work."
Howard didn't specify what difficulties the Bethesda studios faced during development, but anybody who played Fallout 76 during the launch months should be familiar with what Howard was talking about. Fallout 76's own Bethesda Store launcher couldn't install Fallout 76 properly, and attempts to fix some of the launch bugs and glitches resulted in older bugs being reintroduced to the game.
Howard even recalls receiving a package from a fan full of bobby pins and a note asking him to weigh them. It's a reference to Bethesda's decision to make bobby pins 60 times heavier than in real life.
But as Bethesda has maintained throughout development of Fallout 76, it's an ongoing development process. Bethesda recently released the first of the Wild Appalachia seasonal content, which added brewing and distilling "Nukashine," the Fasnacht Parade limited-time event, and the new Survival mode.
One new feature planned for Wild Appalachia that won't be out until May 23 is the Legendary Vendor. Howard says the vendor is designed to solve a key endgame problem around unwanted legendary loot.
"We know the loop of getting legendaries, and people wanting the better legendaries and [and then] getting the one they want," says Howard. "We're solving that loop."
The Legendary Vendor's full feature set hasn't been revealed yet, but Howard explained on stage that there will be a system where players cash in their current legendaries for tokens and then "somewhat customize and roll for the legendary that you want."
In the official Wild Appalachia roadmap, the Legendary Vendor will exchange and scrap unwanted legendary items for new legendary gear, and for every star rating on a legendary item scrapped, players will increase their chances to get the legendary loot they want.
Howard also says that Bethesda is going to do more instances where players can earn specific legendary items for completing specific requirements, kind of like how some legendary items function in games like Destiny 2.
As we head into the next year of Fallout 76, Bethesda is keeping with its plan to keep iterating and developing Fallout 76 as it goes on. Bethesda urged fans to keep giving feedback through Reddit and other social media channels. And while Bethesda says that some suggestions just aren't feasible, it's always listening to input.
You can check out our Fallout 76 guide for more coverage including reviews, walkthroughs, tips, and more.