This new trailer for The Lord of the Rings: Return to Moria gives us our first look at gameplay
Face the long dark of Moria, but be on your guard: there are older and fouler things than Orcs, in the deep places of the world.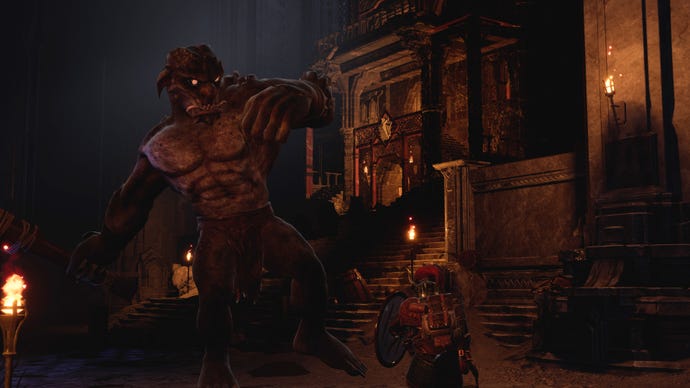 A gameplay trailer was shown for The Lord of the Rings: Return to Moria this evening during Summer Game Fest 2023.
The video, narrated by venerable actor John Rhys-Davies (Gimli!), provides us with our first look at gameplay featuring never-before-seen footage from the PC version of the game.
The video shows the Dwarves as they set forth into the cavernous Mines of Moria, harvesting resources crucial for crafting and building while rekindling long-cold forges to smith more powerful weapons and armor.
The Lord of the Rings: Return to Moria is a survival-crafting game initally announced for PC, but it was revealed today that PlayStation and Xbox versions are in the works.
In development at Free Range Games, the game is set in the Misty Mountains during the rather peaceful Fourth Age of Middle-earth. This original adventure finds a company of dwarves setting out to reclaim the ancient subterranean complex of Moria. Long abandoned and overrun with all manner of evils and hordes of orcs, the company has been sent by none other than the lord of the Glittering Caves himself, Gimli of the House of Durin, to take back the Dwarven homeland and recover its lost spoils.
Controlling the dwarves, you will delve deep into the Mines of Moria to recover its treasures, and join forces to survive, craft, build, and explore all the Dwarrowdelf has to offer. But beware: mysterious dangers await, so be ever vigilant.
The game allows you to create a custom Dwarf before setting out alone or online with companions. Every adventure will be unique through the use of procedurally generated environments, which means you can explore for treasure and mine valuable ores over and over. Yet, be always mindful to not create too much noise - you might attract the attention of dangers lurking in the deep.
The Lord of the Rings: Return to Moria will release this fall for PC via the Epic Game Store, and on PlayStation 5 and Xbox Series X/S.