Terraria has sold 20.5 million copies since its release in 2011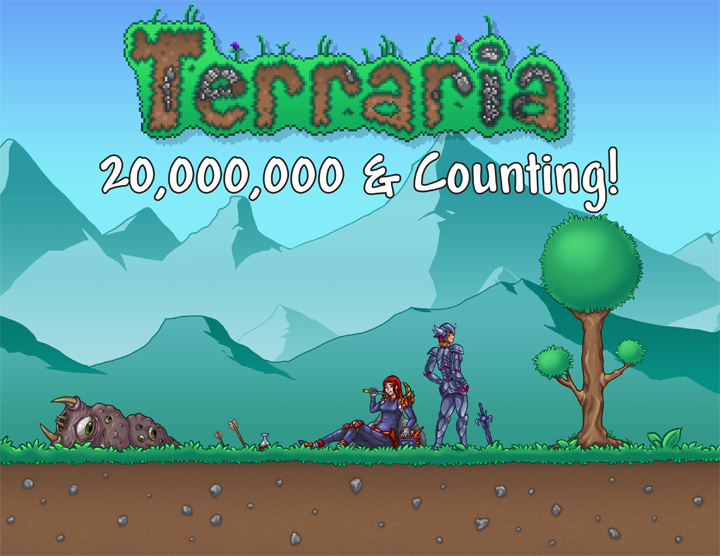 Since its release in May 2011, Terraria has sold 20.5 million copies, according to developer Re-Logic.
The milestone was reached by the end of 2016, meaning over 4.1 million copies of Terraria have been sold each year for the past five years. 8.3 million units were sold within the last 18 months on PC since update 1.3 launched in June 2015.
Along with unit sales figure, (thanks, PCgamesN) the studio also shared more stats on the 2D sandbox adventure since launch day:
Launch (May 2011)
PC only
Over 250 Items
Six NPCs (seven counting the old man)
20 Enemies
Three Bosses
Ten Biomes
Game "ended" with the Dungeon, explorable upon defeating the final boss of the game at the time.
Present
Available on: PC/Mac/Linux, Xbox 360, Xbox One, PS3, Vita, PS4, 3DS, Wii U, iOS, Android, Windows Phone, and Amazon mobile.
Over 3,800 Items
25 NPCs (26 if, again, you count the old man)
Over 350 Enemies
16 Bosses (plus nine mini-bosses)
27 Biomes (Plus a number of "mini-biomes" such as Pyramids or Living Trees)
Optional "Events" (The Moons, Invasions, etc)
Game "ends" with Moonlord, though optional content remains
Expert Mode
Numerous Quality of Life Improvements
More planned
The developers also promised there are more "tidbits" they aren't quite ready to share yet, including and update on the status of Otherworld.
Also, update 1.3 for consoles is "just around the corner," according to the studio with the mobile version releasing afterward.
Re-Logic also described Terraria as a franchise with "so much life left in it," in the post, and said it "cannot wait to share those plans in the months and years to come."